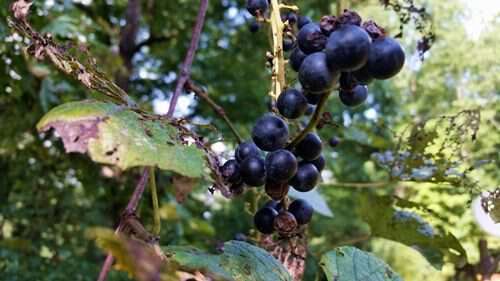 Possum Grapes
As I told you a few weeks back, I grew up enjoying the goodness of the Fox Grapes that grow by the Stamey Branch which runs through our mountain holler. Every time Pap would talk of fox grapes he'd tell me about possum grapes. He said they were smaller and typically don't grow near water like fox grapes do. He also said they were so tart you could barley eat them.
Every time he told me about them, I wished I could see them for myself. Pap said he knew where some used to grow in one of the hollers above the house, but that he hadn't seen any in years.
It was probably May or June when The Deer Hunter took me outside and pointed out a grape vine growing high in the oak trees along the front of our yard. I said "Wonder what they are? I think they're too far from the creek to be fox grapes." Then suddenly I remembered the possum grapes. I said "Do you think they could be the possum grapes Pap was always telling me about?" The Deer Hunter said he didn't know, we'd just have to wait and see.
I could barley stand it till the grapes ripened. I checked every few days and it seemed to take forever.
The grapes are finally ripe. I believe they are possum grapes. They are much smaller than fox grapes and are a deep black color. And oh my they are tart!
Makes me wish Pap was here so that I could tell him I knew where some possum grapes were…in my yard 🙂
Tipper
Subscribe for FREE and get a daily dose of Appalachia in your inbox