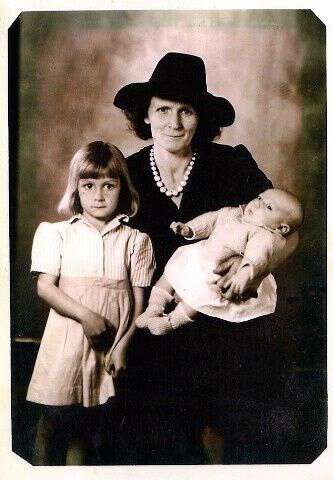 Granny, her mother Gazzie, and her nephew Winston
More than a few folks in Granny's family left the mountains of NC for the factories of Michigan. Some of them came back home and some of them made a new home up north and only came home for holidays and vacations.
Granny is the third youngest in her large family of nine children with two brothers, James and Lucky just below her. Their parents were Gazzie and Charlie Jenkins.
Gazzie's brother Byers and his family lived near Gazzie and Charlie. Granny said the house was white but it was so dusty it looked yellow and they all called it the little yellow house. She said "Uncle Byers said we couldn't call it the white house noway because we sure ain't that important."
Byers moved his family to Michigan for work and Granny said they missed them something terrible.
One day Gazzie sent Granny and James to her oldest daughter Faye's house to get taters. They had an ole toe-sack to carry the taters in. It was about three-fourths full and heavy for two little kids to carry. They took turns holding the heavy sack as they walked back home.
Granny and James didn't know it, but Byers had come home from Michigan to get his family's furniture.
Byers was shaving and just as Granny and James came up the hill by his house he stuck his soaped up face in the window and made a sound like a ghost. Granny said she shoved the taters at James and took off running as fast as her bare feet could go. She stubbed her big toe on a root, but kept on going. James was right behind her running as fast as his little legs would go holding tight to the taters the whole way.
Byers loved to play jokes and for the rest of his life he'd tell the story of scaring Granny and James. He said James was running so fast the sack of taters was sticking straight out behind him.
—-
Every memory I have of Uncle Byers is one of him laughing with a twinkle in his eye. Although I don't mention it much, music was a big part of Granny's family too. I hope to let you hear a song from Byers one of these days.
Tipper
Subscribe for FREE and get a daily dose of Appalachia in your inbox