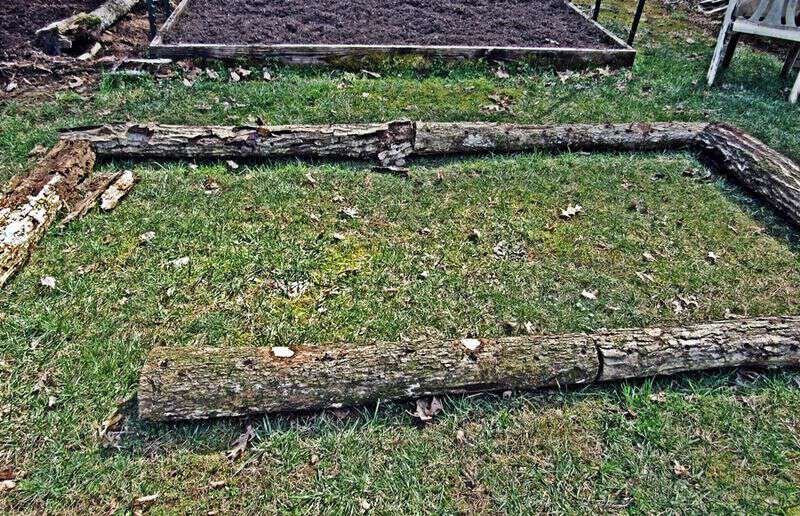 Reading Dean Mullis's March 4 Laughing Owl Farm Newsletter inspired me to try and make my own instant garden. This is what Dean said in his newsletter:
"It has been almost 4 months since it has been dry enough to prepare land for planting with all the rain. Luckily, I had an area that I had sub-soiled and ridged up last fall that was dry enough to till on Tuesday. I was able to plant 150 lbs of potatoes Thursday, about 750 row/feet.

I am seriously thinking about building more no-till beds. I built two this week, each 4′ X 100′.

Even if you only have a 10′ X 10′ space in your backyard, you should be growing some of your food. Few tomato plants, a couple of squash and cucumbers, basil, cilantro, etc. Grow what you like to eat. Here is how."
Unfortunately the video is no longer available, but I'll describe the process in a nutshell for you. And if you search for his name, Geoff Lawton, on youtube there are lots of other gardening videos available by him.
In the video Geoff Lawton shows how to make an instant garden from things he already has on hand. He lays out paper and cardboard along the area he wants the bed to be. He doesn't worry about tilling the soil up first, he just covers the area thoroughly with paper and cardboard. He does say it would be beneficial to add compost, manure, or even kitchen vegetable peelings under the paper and cardboard. On top of the layer of paper, he adds whatever organic mulch type material he can find-think grass clippings, old hay, leaves, etc. Once he has the mulch layer down he makes a hole down through the mulch, paper, and cardboard and then using compost he plants his seedling or seed in the hole. Over time the paper and mulch break down and further enrich the soil. In the mean time, Lawton has himself an instant garden.

After a full day of working outside I decided I wanted to follow Dean's advice and make a no-till bed to increase our garden space. I didn't do it exactly like Lawton shows in the video, but I think it will be ok and I can't wait to see how the things we plant in the 'instant' bed do.
Since we still have several cut logs from our old mushroom growing enterprise we used four of them to contain our instant garden. Next we laid down a very very thick layer of newspaper and some old brown paper that was in the kindling box.
For the next layer we headed to the woods.
The sentence above makes it sound like we trudged up the mountain into the wilderness doesn't it? Actually we just walked out past the chicken coop. We collected several loads of leaves, twigs, and leaf mold.
Once we had that layer down I remembered a pile left from the last clean out of the chicken coop, so we added a few buckets of that to the bed and mixed it around in the leaves.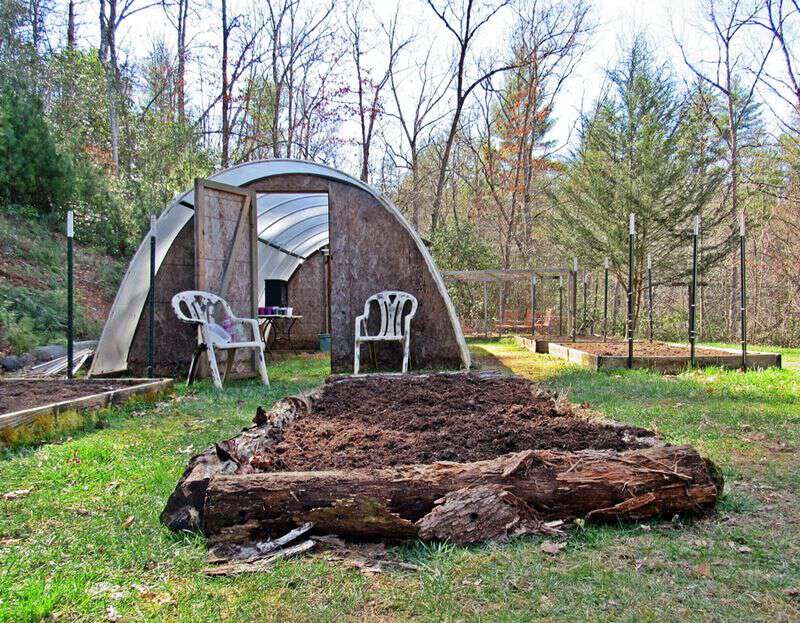 The Deer Hunter had brought home a truck load of mushroom compost to replenish all of our raised beds so it was really easy to top off the instant garden with a few wheel barrels full of that and call it done.
Now that I've written this post I don't think we followed Lawton's video at all! Oh well at least it inspired me to get out and make another garden bed. I hope it inspires you to do the same.
In case that wasn't enough gardening information for you, Dean shared two more interesting techniques in his March 18 newsletter: sheet-mulching and swales.
Tipper