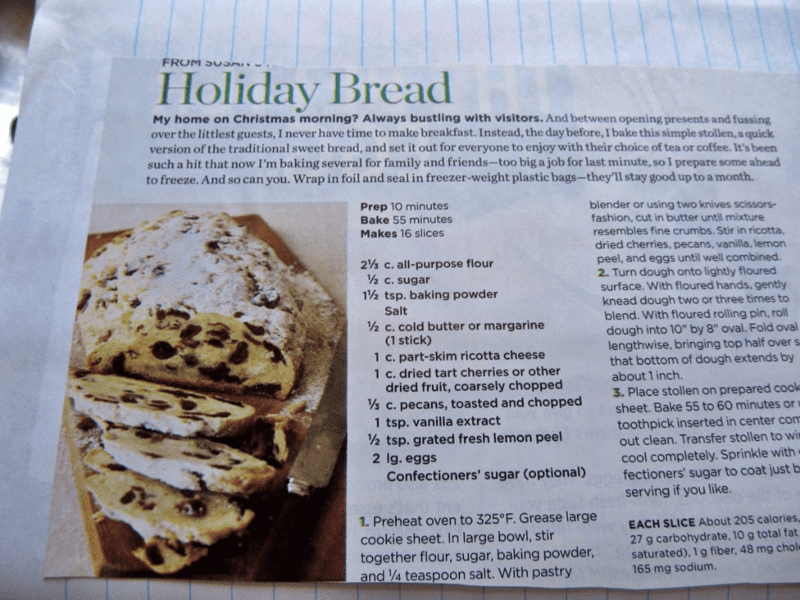 If I see a recipe that I think sounds good-I rip it out of my magazine and stick it in my cookbook. Sometimes I make the recipe right away; sometimes it takes me a while to get around to making it; and sometimes I end up throwing the recipe away-never trying it at all.
The recipe for Holiday Bread that you see in the photo above is one I ripped out of a Good Houskeeping, Country Living, or Southern Living magazine 5 or 6 years ago. I know it's been that long-because that's how long it's been since I took the time to organize my recipes. I like to glue the good ones down in a composition book…but most of the time I just cram them in the front of the notebook.
Anyway, I never tried the recipe. I thought it sounded like something my bunch would like, but somehow never made it until this year…I shouldn't have waited so many years-it is really good.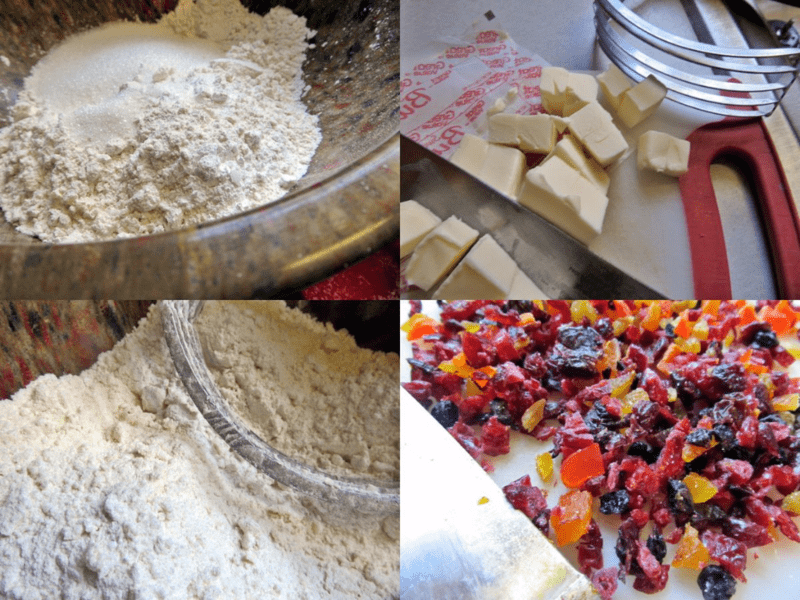 Christmas Bread (a simple stollen)
2 1/3 cups plain flour (all purpose)
1/2 cup sugar
1 1/2 teaspoon baking powder
1/4 teaspoon salt
1/2 cup cold butter cubed
1 cup ricotta cheese
1 cup tart dried fruit coarsely chopped (I used what I had on hand: a mixture of dried cranberries, blueberries, and apricots)
1/3 cup pecans toasted and chopped (I didn't toast them-I forgot!)
1 teaspoon vanilla
1/2 teaspoon grated lemon peel (I used lime because I didn't have a lemon)
2 large eggs
powdered sugar (optional)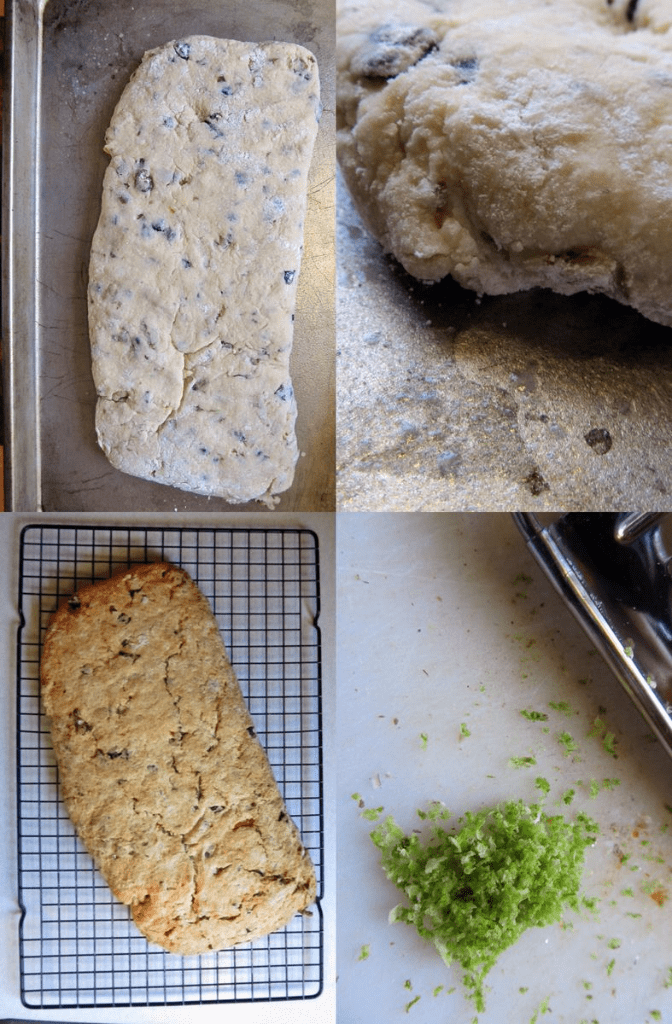 Heat oven to 325 degrees and grease a large cookie sheet.
Mix together flour, sugar, baking powder, and salt; add butter and cut in with a pastry cutter until flour mixture looks like coarse crumbs.
For years I had a cheap pastry cutter. Every time I used it the handle came loose and I had to hold it a certain way to keep it from popping off. Then it happened-I found a heavy duty stainless steel pastry cutter at a yardsale in Asheville. I think I paid 50 cents for it-and I'm betting it cost over 20 bucks! Didn't look like it had ever been used-but it is a pleasure to use-so nice to have a good tool in your hand.
Add ricotta, dried fruit, pecans, lemon/lime peel, eggs, and vanilla to flour mixture-stir till combined.
Place dough on floured surface and knead gently-you may have to add a little additional flour-I did. The dough is really soft but also forgiving-so if it doesn't look perfect don't worry.
Shape dough into a loaf shape. The shaping is really up to your personal preference. I go for a loaf about 10 – 11 inches long and 6 – 7 inches wide across the middle.
Bake for 55-60 minutes or until golden brown. After it's baked-let the bread cool completely on a rack-if you can bare to wait! The bread doesn't rise hardly any. When I first got it out of the oven I though it would be chewy and tough-but it's not.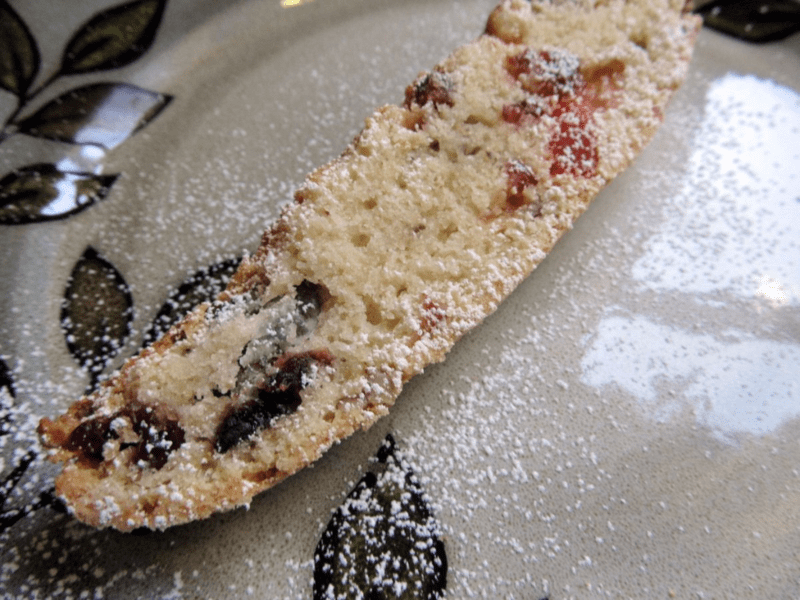 You can sprinkle powdered sugar over the bread when you serve it-it's not necessary but it does make it look pretty. I can't believe I waited so many years to make this bread-but we all like it so much I'm positive I'll be making it for years to come.
Tipper
p.s. I wish I could give credit to the person who wrote the recipe-you can almost see what looks like the name Susan at the top of the part I ripped-so thank you Susan whoever you are : )