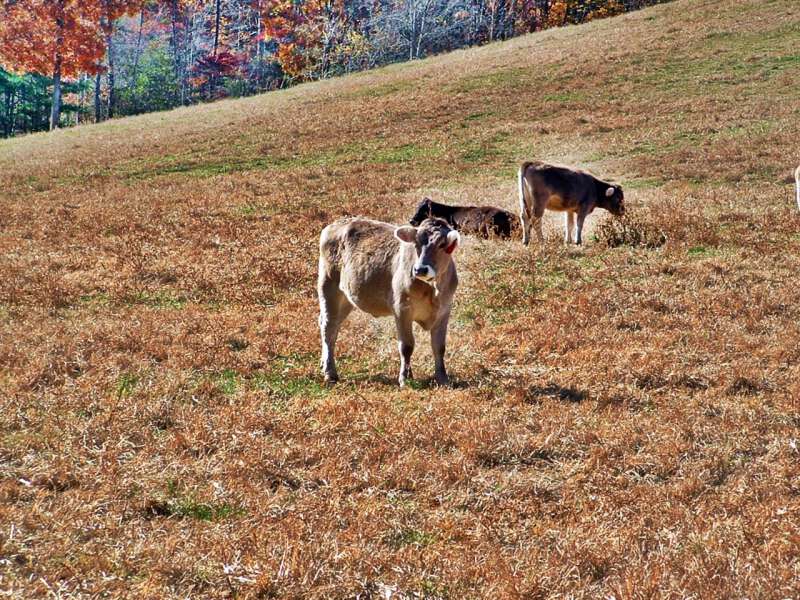 The 1974 Winter Edition of the Foxfire Magazine contains a compilation of newspaper articles written by Harvey Miller. At the time of the magazine's publication Miller's weekly column had been around for sixty years and was till being published in the Tri-County News located in Spruce Pine, North Carolina.
1951
G. Barnett of Pigeon Roost, owns a pet cow that refuses to roam the pastureland territory this summer without having people as company. When Barnett's children went to the field to pull lobelia herbs for the market, the cow would go along and feed, but she always returned back to the barn with the children.
10/11/51
——————-
1958
Molasses making time is here again, but there was only one cane crop grown on Pigeon Roost this year. It belongs to Harvey Garland, who recently had his cane mill restocked and a new molasses boiler made. He grows only a small cane crop to make molasses for his home use.
Tobacco crops are all largely cut and in the barns. Corn crops have grown exceedingly high this year and most of the crops are late in maturing this season.
Dewey Hughes' folks killed five copperhead snakes in their corn field last week while taking fodder.
Conway Hughes, Aspie McCoury and Joe Brown said they found praying mantis in their tobacco patches last week.
There was a high number in attendance at the Freewill Baptist Church Sunday, Sept. 14. The record showed there were 74 present. E.W. Jones, Sunday School secretary, said there was a larger number once before in Dec., 1957 when there were 84 present.
10/2/58
——————-
1961
I have always heard it said if you want to rid a place of rattlesnakes, just turn loose some hogs and they will soon clean up the poison serpents.
It is reported that the most kind of the one herb that that has been collected here for the Botanical market this season that is now closing appears to be the beadwood (witch hazel) leaves.
The extra high price paid for this particular item, which was 14 cts. a pound is probably why there was more of it dug and prepared for the market than there usually is.
Also another large seller here this year was the black cohosh or rattle-top root which was 8 cts. per pound. But the blue cohosh roots was only 4 cts.
10/12/61
——————-
Always interesting to pay a visit to Pigeon Roost. Makes me wish I could make spending money by hunting out herbs and selling them on the Botanical Market.
Jump over to the Foxfire website and visit. If you haven't been there in a while, they have a brand new site that is great fun to poke around and they are still publishing the magazine and those wonderful Foxfire Books too.
Tipper