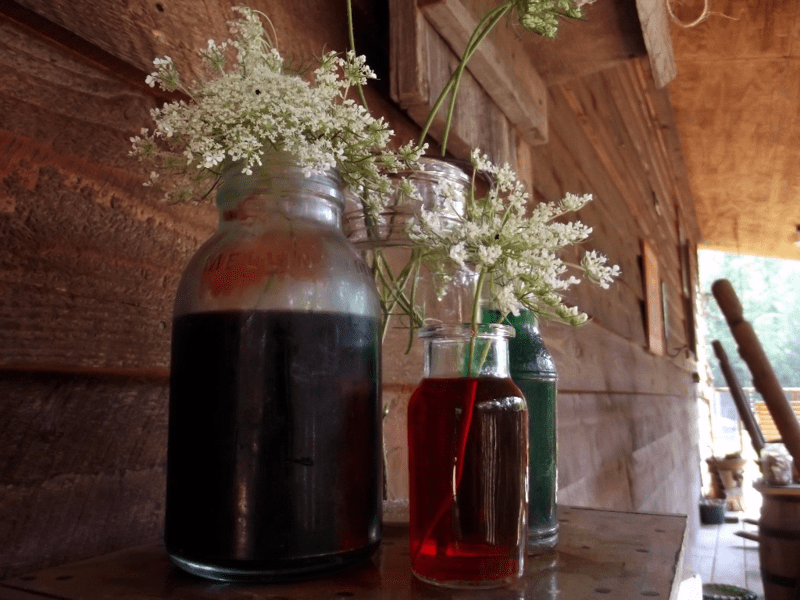 So many good 'porch' comments were left on the post Appalachia Through My Eyes – Of An Evening that I thought I should share them.
———–
Roy Pipes said: Tipper – Anymore, we don't do enough relaxing in the back yard or the front porch swing. I remember Daddy sitting on his porch swing, and neighbors seeing him there would stop and visit. Now, with air conditioning neighbors, not knowing if we're busy – don't stop.
———–
Ken Roper said: Tipper, Granny and Pap look so relaxed in the cool of the evening shade. You're a fortunate gal to have grown up there. Our house was always on the North Side of the mountain and it cooled off real nice when the sun crossed over. Daddy must have planned it that way, cause it sure was nice sitting in the shade after supper and a hard day's work. About 3 nights a week our chickens (roosting in a laural hell in back of the house) would start squawking and off the porch our 4 fiests would go. They'd spot that booger in just a few minutes and daddy showed us how to shake that ole possum out. Most of the time he never made it to the ground, but that way we saved a bullet. It's funny how a picture can trigger old memories…Ken
———–
Ed Ammons said: Where I come from, this time of the year, when the shadders started to creep, it was back to work and work til you can't see how. We would get up at daylight, have breakfast then out to the field. Long about ten we would knock off for the morning and "get out of the sun." The youngins might go wadin in the branch or swinging on a grapevine. The older folks might sit on the porch and rock and just sit and talk and fan themselves and swat flies. Somebody might be stretched out acrost the porch taking a nap. Dinner would be whatever was left over from breakfast or whatever you could scrounge up. It's too hot to eat anyway! Then along about the time your pictures shows Granny and Pap lounging, it's back to the field til about dark. Mommy hollers "SUPPERS READY" and we all go in to eat.
———–
Judith said: I was just talking to our granddaughters Sunday about the value and the memories attached to porch and back yard settin'. Both sets of my grandparents had big porches on their houses. There was alot of living that happened on those porches. I'm carrying on that tradition, workin' on fruits and vegetables, eatin', singin', star gazin', lightnin bug and various critter watchin', and on the rare occasion a nap can be caught. My youngest is a bit impatient and she thought blowin' bubbles and porch sittin' was a little bit "boring" until I told her how much I wish that I could go back and set on the porch with my grandparents again. Some day Lord willin' I can. Take the time and enjoy while you can.
———–
Jim Casada said: As a boy, our evening retreat in summer was the back porch. There was many a bushel of beans strung and broken there. In cooler weather, we tended to gather around the radio, especially when some of the family favorites such as Gunsmoke were on.
———–
All those comments made me want to spend more time on my own porch.
Tipper