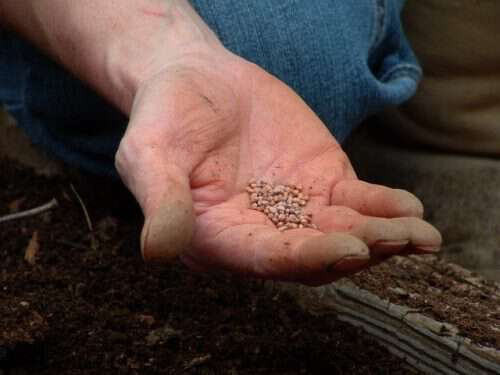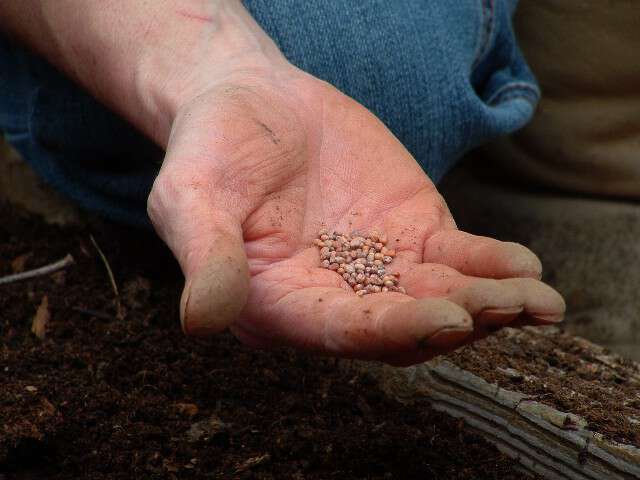 So far my July has been hot and dry-and the garden isn't really enjoying the weather. We've been watering the garden at our house-but the big one we share with Pap and Granny is harder to water-and it desperately needs rain.
We've been getting squash, green beans, cucumbers, onions, cabbage, beets, zucchini, peppers, and a few tomatoes from the garden. This is my favorite time of the year to eat.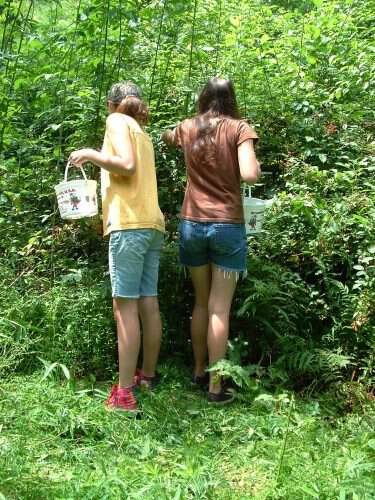 With the help of these 2-I've made 3 runs of Blackberry jelly-and been eaten alive by chiggers along the way.
I've gotten a few updates from the Squash Test Participants:
On 6-24 Martina noted: I planted the seeds on the 18th and 19th of May.  Two of the bad day ones came up, one of the good day.  I'm not holding much hope for success. So far the plants have three dinky leaves and are about 1 in. tall.   The tomato plants are just starting to bloom so I think that your growing season starts much sooner than around here.
B. Ruth: I did want to report on the Squash seed plants…..Roy my husband said that the seeds he planted on the good days were (plants) about three times bigger than the seeds (plants) planted on the bad days…..even though the seeds on the good day were planted later than the bad day seeds…..I wasn't here but he planted them for me and marked the seeds….They are just now getting ready to set fruit so it will be interesting to see the size of the good day plants.
You can go here to see Twisted Fencepost's first report. And you can go here to see Reddirt Woman's latest Squash Report.
David Templeton: I'm sure a scientist could think of all kinds of questions to ask to try and assure that the study is being done using the "scientific method" but I have made sure that all conditions have been controlled and each hill of plantings has received the same treatment. The hill on the left is the "Bad" day planting, the one on the right planted the day before on a "Good" day.
Good" came up on schedule, "Bad" was slow to germinate and showed up about a week after the "Good"
The planting was during the last set of "sign" days in May.
In this case, so far, the "Bad" (on the left) is visibly bigger; taller, with larger leaves.  Both hills have buds forming and will bloom in just a few days.
I'll get many squash from each hill and I will try to compare yields (number of pounds per plant, or something).Mainly, I like yellow crookneck squash and that will be the bonus of the fun test.
This was my attempt to show you my 'bad day' squash-but my garden has turned into such a jungle-it's hard to get an individual picture of each of the test plants. So far my 'good day' seem to be doing better than the 'bad'. The 'good day' squash were bigger from the beginning and sprouted faster-2 of my 'bad day' did not even come up. I've gotten a few squash from my 'good day'-but none from the 'bad day'-although the 'bad day' is setting squash.
——-
Remember my volunteer Squash plant? Well it was a disappointment-it grew some rock hard small blobs then promptly died. But I found something even better volunteering for me-a watermelon! Last year, Hubert (a past Mountain Folk interviewee) gave me several watermelon seeds-they all came up-but not one made a watermelon-or so I don't think they did. Anyway-I noticed this one when it was just tiny-now it seems to grow bigger over night. I'm not sure if it came from one of Hubert's or not. He says if it's yellow inside-I'll know it was his. Gardening is funny-last year I tried so hard to grow a watermelon and made a total failure at it-this year I made no effort what so ever-and I've got a dandy one growing in my garden.
If any of you are taking part in the Squash Test-please leave a comment and update everyone about how yours are growing.
Tipper