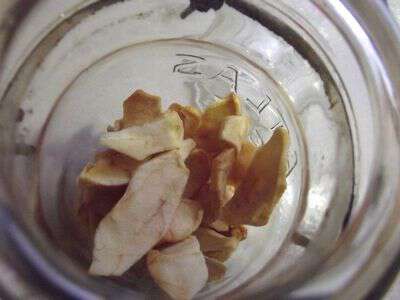 There's no doubt about it eating food you put up yourself is one of the good things in life. Part of the goodness comes from the nutritional value of the food, the taste, and the satisfaction of self sufficiency.
Recently I watched the rain come down in sheets while I ate apples I dried back in the fall. As I munched, I realized there's another reason why things we put up are good.
On a yucky dreary day my dried apples gave me sunshine; a slice of crystal clear Georgia sky; the sounds of 4-wheelers and giggling girls; in other words my apples gave me a swirl of good memories from the day I dried them.
I've long realized we have memories and emotions tied to certain foods, like how we can taste a certain food and instantly be taken back to childhood. But I've never before thought of food in connection to the actual day it was made.
I'm positive the next jar of tomatoes I open I'll smell the hot summer sun shining on the green leaves; the next time I cook a jar of greenbeans for supper I'll think of the early summer days when we planted them together in Pap's big garden with friendly banter back and forth among us all; and the next time I open a jar of apple jelly I'll swear I hear the voice of a friend who went to so much trouble to make sure I got the apples in the first place.
Tipper
Appalachia Through My Eyes – A series of photographs from my life in Southern Appalachia.