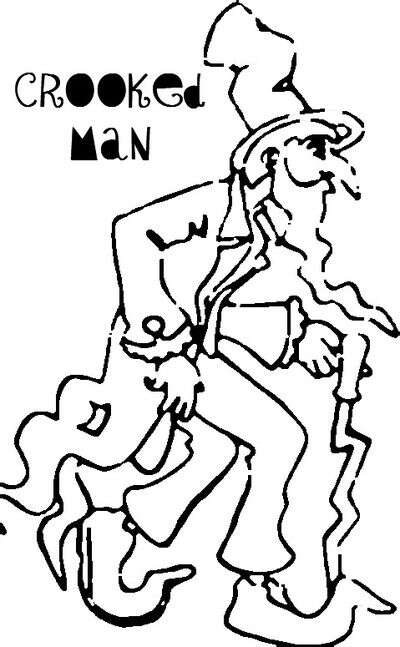 There was a Crooked Man
There was a crooked man and he walked a crooked mile,
He found a crooked sixpence upon a crooked stile.
He bought a crooked cat, which caught a crooked mouse.
And they all lived together in a little crooked house.
————-
I always loved this rhyme because of it's nonsense quality. I loved thinking about a crooked man who lived in a crooked house. I used to lay upside down on Granny and Pap's couch and look at the clean expanse of ceiling and wish I could walk through the house on the ceiling, stepping over the entry ways as I came to them. As I thought about the crooked man in his crooked house I wondered if his ceilings connected to his floors by stairs so that he had to walk up and down to make his way in or out of his rickety house.
Turns out the crooked man and his crooked house were all about symbolism-not the reality I had pictured in my head.
According to the website Nursery Rhymes Lyrics and Origins, the poem originated from the history surrounding King Charles I and the Stuarts. A short quote from the website gives the details:
"The crooked man is reputed to be the Scottish General Sir Alexander Leslie. The General signed a Covenant securing religious and political freedom for Scotland. The 'crooked stile' referred to in "There was a crooked man" being the border between England and Scotland. 'They all lived together in a little crooked house' refers to the fact that the English and Scots had at last come to an agreement. The words reflect the times when there was great animosity between the English and the Scots. The word crooked is pronounced as 'crookED' the emphasis being placed upon the 'ED' in the word. This was common in olde England and many references can be found in this type of pronunciation in the works of William Shakespeare (1564-1616)."
Do you remember the poem There Was a Crooked Man?
—————
Tipper
*Source:  Nursery Rhymes Lyrics and Origins