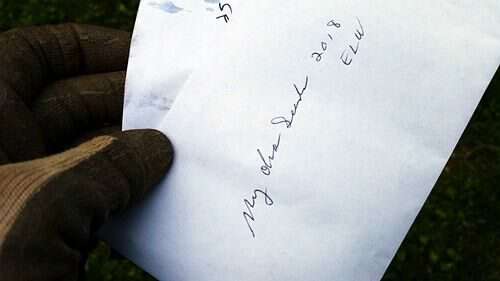 Granny's saved okra seed
The Deer Hunter and I planted Granny's garden last week. I've never in my life seen anybody as crazy about the garden as she is. Granny literally radiates joy when she's planting, harvesting, and preserving.
As she said "Let's plant a few more greenbeans" for the third time we got tickled at her because we knew there was no where left to plant them. Granny also loves greenbeans more than anyone I've ever known. I said "Well there really ain't anywhere left that's big enough to put stakes up." She said "Oh no we don't need any stakes we'll just let this patch run where they will and I'll pick them off the ground."
Granny is a peculiar person. I guess as the old timers would say she's quare. Granny is her own person and looks at the world like no one I've ever met nor even read about. Growing up those traits weren't always endearing to her backward easily embarrassed daughter. But as the years have flown by I've come to treasure Granny's quirks and after I had the girls I suddenly saw beyond the oddities to the wonderful mother she has always been.
Happy Mother's Day Granny – I love you more than you'll ever know.
Tipper
Subscribe for FREE and get a daily dose of Appalachia in your inbox