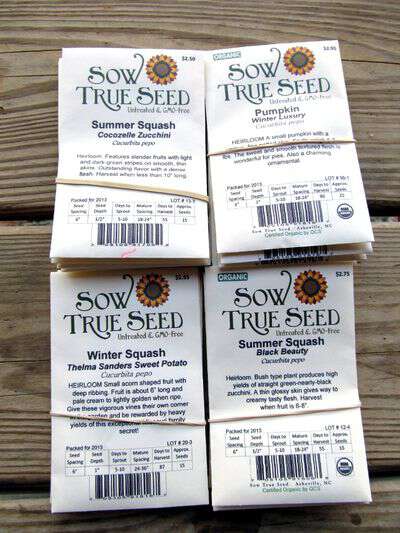 It was a bumper year for Squash in the Blind Pig & the Acorn garden. We had tons of yellow squash and zucchini squash-which we plant every year. But thanks to the generosity of Sow True Seed we grew all sorts of squash that we've never grown before.
Sow True Seed, who sponsored the entire Blind Pig & the Acorn garden, graciously donated extra squash seed so that I could deputize Squash Reporters @ Large.
Below are the squash varieties donated by Sow True Seed-and the results from our garden.
Summer Squash Early Summer Crookneck: This is the second or third year we've grown Sow True Seed's early summer crookneck squash-and once again it was a great producer for us.
Winter Squash Cushaw Green Striped: We had/have tons of cushaw green striped squash-a very prolific producer.
Winter Squash Greek Sweet Red: I was really excited to try the Greek Sweet Red Squash-but it wasn't to be-our plants seemed to thrive and then died without producing any squash.
Winter Squash Pink Jumbo Banana: We did not plant this one-I was afraid of a 40lb squash!
Summer Squash Cocozelle Zucchini: Very productive zucchini-my frig is full of them right now and I was able to share many with a friend at work.
Pumpkin Winter Luxury: Who knew I could grow pumpkins-my first true pumpkin success-my freezer is full of their goodness.
Winter Squash Thelma Sanders Sweet Potato: I could not wait to taste Ms. Thelma Sanders Sweet Potato Squash-but I'm still waiting-this one was a no go for us.
Summer Squash Black Beauty: Like the Cocozella-very prolific.
Squash Winter Improved True Green Hubbard: No luck with this one. We did produce 2 very ugly looking squash but they were soft and mushy when I found them.
Winter Squash Table Queen Blush Acorn: Success! And a recipe to share soon!
Winter Squash Seminole Pumpkin: Again-who knew I could grow a pumpkin! I'm guessing the secret to my pumpkin success this year is the varieties are for small pumpkins instead of giant ones.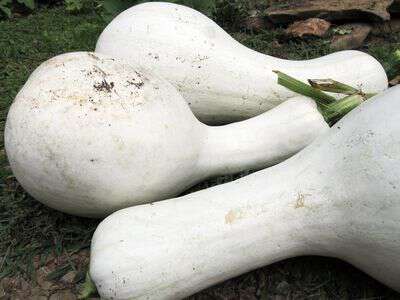 Along with the Sow True Seed Squash, we planted a few other varieties sent to us by Blind Pig readers. Bill shared his orange cushaw, green and white striped cushaw, banana squash, and white cushaw seeds with us. Norma shared a heirloom blue pumpkin seed with us-that hails all the way from New Zealand.
We didn't have any luck with the blue pumpkin-but Bill's white cushaw produced monstrous squash!
As summer progressed and the garden begin to fill in we noticed one particular squash that seemed to be larger than all the other plants. The runners on Bill's white cushaw went everywhere! Seemingly overnight they took over the beets and moved on to the tomatoes in the front garden. I told The Deer Hunter I bet that thing'll reach B.Ruth in Tennessee before it frosts!
We finally had to start cutting the cushaw back-but not before it produced some 20lb squash for us. I figured something that big might be tasteless or tough-but I was wrong. Bill's cushaws were tender and tasty!
If you were a Squash Reporter @ Large-send me your final report and I'll share it here on the Blind Pig (THANK YOU to all of you who have already sent me a report!!)
Tipper