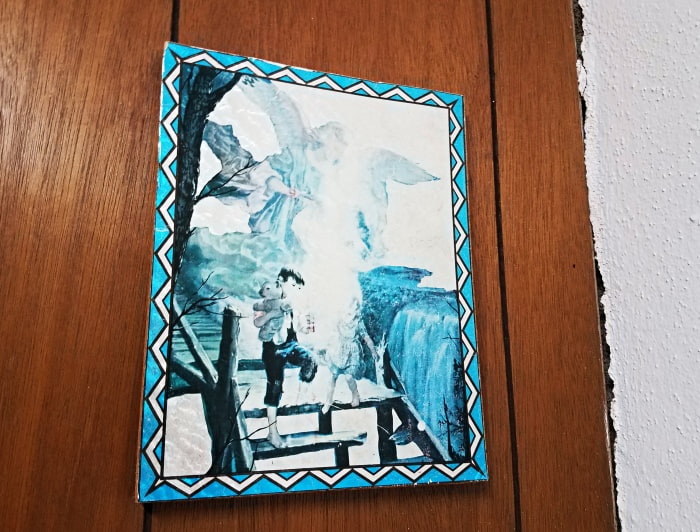 A while back we were warming up in the back of a church before performing when I noticed the picture above hanging on the wall.
I was immediately taken back to elementary school and the wonder of seeing many similar pictures when students sold them as a way to raise money for the big 8th grade trip.
In those days the big trip wasn't to a different country nor even a far distant state. The big 8th grade trip at Martins Creek School was to Lake Winnepesaukah in Chattanooga TN.
The school now services Pre-K through 8th grade. At that time it was 1st-8th, then K-8th.
None of the classes took many, if any, field trips. But all the younger students looked forward to the day when they were classified as 8th graders and were able to go on the famed trip to Lake Winnepesaukah.
My older brother Steve was several grades ahead of me, but I remember the fund raisers from his class because he of course brought them home.
One fund raiser was the selling of religious type pictures like the guardian angel one above. Another one was candy that came in small round tins. The tins had a key you had to insert in one side of the top and then slowly roll it back to open the goodies.
The last time I was at my Granny Gazzie's there were several of the religious pictures on pressboard like the one I spotted at the church. Maybe they're still hanging there where she put them.
As we tuned up one last time before entering the sanctuary I wondered if someone from Steve's class sold the picture to a member of the church. I wondered if Granny Gazzie bought hers from Steve, one of her other grandkids, or a student from the community.
It's amazing that a picture on a wall can call up so many vivid memories and feelings of people and times that are long since gone.
Tipper
Subscribe for FREE and get a daily dose of Appalachia in your inbox