Today's post was written by Paul.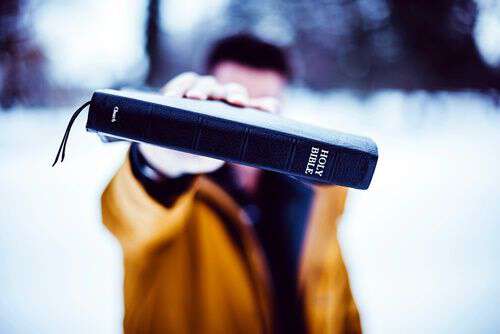 "The Gospel According to John" is a song we learned from our friends, the Marksmen Quartet. We never did really get a take that we liked well enough, but I found the video below after Pap passed away and decided to upload it anyway. Pap's voice breaks on him a couple of times, but the harmony is good overall, and normally, he had no problem reaching the tenor on the highest notes. We love the story the song tells. The speaker or narrator doubts not only his fellow man but also the power of the Word of God and is happily proven wrong on both counts.
The Gospel According to John
Down on the corner of Maple and Main
Dirt on his face and his heart in his hands
Stood a ragged old creature with hard rugged features
He'd written My name is John on a sign and say can you spare John a dime
How often I'd seen him both time and again
Should I offer help or could I just pretend that I don't have a dollar
For all that it mattered I just gave him my Bible instead
Still I wondered if John ever read
Where it says whosoever will come to the father
Drink from the life flowing river
For God so loved the world that he gave
Let my life point to the giver
I was making my rounds over town yesterday
Thought I hadn't seen John in a while anyway
He's probably pushing up daisies drunk or half crazy
But I couldn't help stopping to stare
Because you wouldn't believe who was there
He was down on that corner of Maple and Main
Smile on his face and a Bible in his hand
Now there's a new creature and Sunday School teacher
Singing I've found that crucified one
That's the Gospel according to John

I hope you enjoyed the video and I hope each of you have a great Sunday!
Tipper
Subscribe for FREE and get a daily dose of Appalachia in your inbox