Today's guest post was written by Lorene from Appalroot Farm.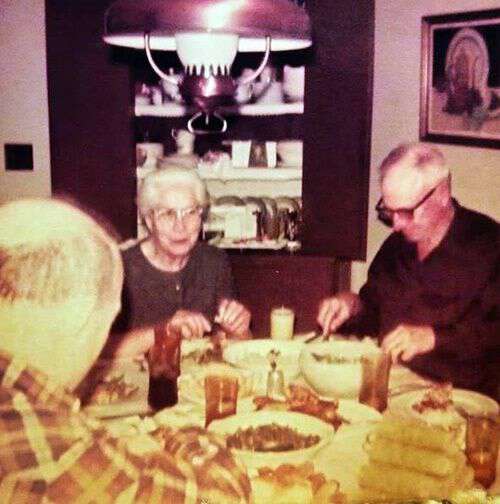 This photo is a truly beloved scene from my childhood! Gathered round my mamaw and papaw's table for a family meal…I can almost hear Papaw still saying, "Now you see what 'tis," and "I like to see a feller eat!" Truth be told, Papaw himself loved to eat, and he certainly didn't mind company at the table. Oh, and the side glances Mamaw could give Papaw for taking a second helping of sweets! We all giggle about that to this day! But who could blame Papaw for indulging when everything always tasted so good, and was shared so selflessly? You know, when I really think about it now, it was around this little farmhouse table in the middle of the Eastern Kentucky hills that I learned what true hospitality actually means. I learned how company should be made to feel when you open your door to them, and how you share with them your very best, and how your house should come to feel like home to them. Even now, long after Mamaw and Papaw have left this old world, going back to their farmhouse in Appalachia is like going home for me…because the pure love and unending generosity they showed us over the years can still be felt…hanging over the old place just like a fog hangs over the hills and hollers.
———
I hope you enjoyed Lorene's reminiscing as much as I did. When I think back to eating around the table with family, I see clearly that simple every day occurrence helped shape me into who I am. And along with all the helpings of life lessons was the delicious food cooked and served by those who loved me.
Tipper
Subscribe for FREE and get a daily dose of Appalachia in your inbox