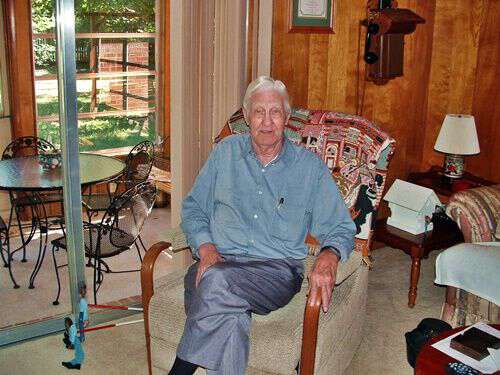 Charles Fletcher – Friend of the Blind Pig and The Acorn
Long time Blind Pig and The Acorn reader and contributor Charles Fletcher passed away on Sunday July 22, 2018. If you'd like to jump over and read his obituary you can go here and if you'd like to let his family know how much you enjoyed his writings go here.
Not long after I first started this blog Charles stumbled upon it and contacted me. We become fast friends. Over the years Charles became friends with all the Blind Pig family. He used to call Pap on a regular basis to talk about the old days and since Pap died he's called Granny to check on her and see how she's doing. When I told her Charles passed away she said she'd been looking for him to call her just anytime.
Charles was a prolific writer and wrote many books about growing up in Western North Carolina. He led an amazingly interesting life. From living in the days of the horse and buggy to being a solider in the Battle of the Bulge to helping start the Bowater Paper Corporation Plant in Calhoun, TN. Along with all that, Charles also had a wonderful family.
I've shared tons of Charles' writing on the blog and it's hard to pick a favorite, but I'll leave you with two links from guest posts he did that would be at the top of my favorite list.
The Medicine Show: I'm still smiling about his mother's happiness.
Digging the Well: I can just see Aunt Seet running out the door! And who could blame her-talk about being scared to death 🙂
Charles Fletcher was a true blue friend to the Blind Pig and the Acorn and he will be greatly missed.
Tipper
Subscribe for FREE and get a daily dose of Appalachia in your inbox