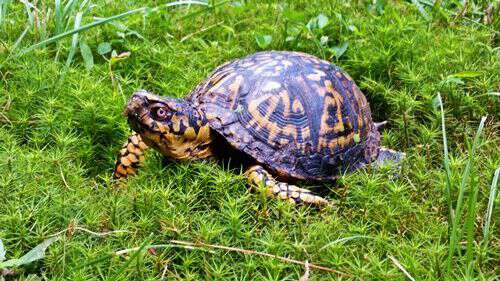 1.The other day Granny called and said there was the prettiest terrapin she ever saw in her yard and that I ought to get a picture of it. I told her I'd be there in just a bit. When I got down to the house Granny was still standing in the yard watching the terrapin as it watched her. I said "Well you didn't have to stand there and wait on me." She said she didn't want it to slip off before I got there. Granny was right it was one of the prettiest terrapins I've ever saw.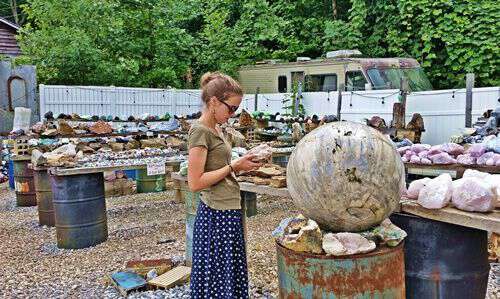 2. A couple weeks ago we played in Helen GA. On the way back Chitter asked if we'd stop at the rock place on the side of the road. The Deer Hunter and I both sighed and rolled our eyes. He said "Do you know how hard it'll be to get in and out of there? I'll have to turn against traffic both ways."
If you've ever driven through Helen GA on a Saturday in the Summer you'll understand our reticence to stop. But who can say no to a cute girl like Chitter?
Amazingly we turned across traffic without a hitch there wasn't even anyone coming. She walked around and picked up pretty much every rock on the place before she was ready to leave. As we got the car turned around to pull out I said "Well this ought to be fun." Unbelievably there wasn't a car in sight coming either way. As The Deer Hunter pulled out and headed us for home I said "Wow can you believe this? No cars either way?" Chitter said "Well I did pray." It took us almost an hour to get through bumper to bumper traffic before leaving the city limits of Helen, but it wasn't Chitter's fault.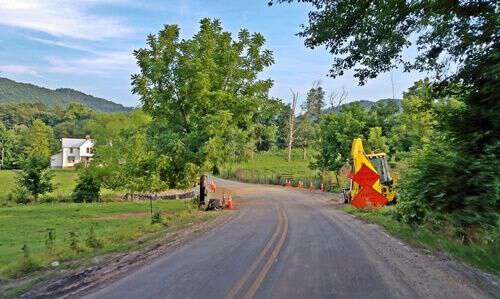 3. The state has replaced the first culvert on our road. It's the place that typically floods after a really really heavy rain. They inserted some sort of new pre-fab culvert-it was huge! They did one side at a time leaving one lane for folks to get in and out. We heard the culvert was the very first of its type to be used in this part of the state. We also heard the men on the state crew were asking for the newly fixed site to be called the Jerry Wilson Bridge. I doubt they can get the naming pulled off, but I sure appreciate them thinking of it and I know we will always think of it as Pap's bridge even though it's technically not a bridge 🙂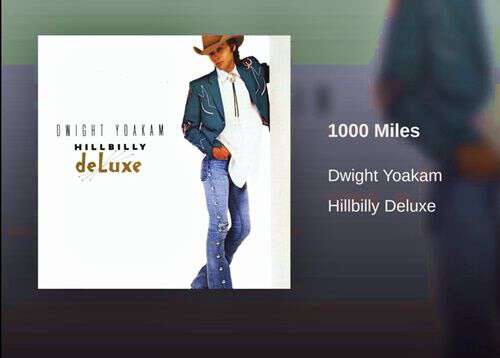 4. Recently I was reading a book that mentioned Dwight Yoakam's song "Readin' Rightin' and Rt. 23." When Dwight first came on the scene back in the 80s Paul and I both flipped over his music. Even Pap liked his songs although he said his pants were too tight and he acted too silly while singing 🙂 Since the book jogged my memory I've been on a Dwight Yoakam listening kick. My favorites are among his early songs, but I'm not sure I could pick a favorite. Hillbilly Deluxe has a lot of the ones I love on it. I'm especially fond of "1,000 Miles," "Smoke Along the Track," "Mr. Johnson," and "Little Sister." You can go here to hear them for yourselves.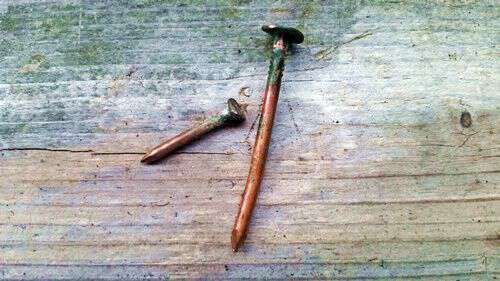 5. The Deer Hunter knows I love anything that's old so when he comes across something he thinks I'd like he brings it home to surprise me. His latest gift was the two copper nails above that he discovered when dismantling a piece of Cherokee County's history from 1926.
Tipper
Subscribe for FREE and get a daily dose of Appalachia in your inbox