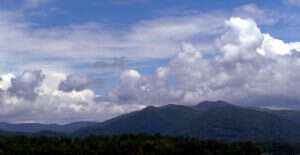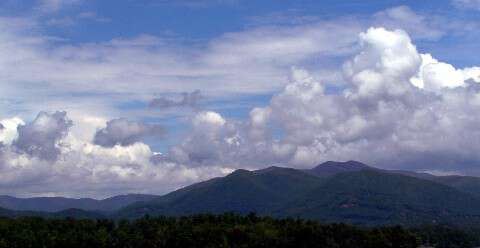 Summer is the best time to see the 'blue' of the Blue Ridge Mountains. The Blue Ridge Mountains stretch from North Georgia all the way to Pennsylvania where they eventually peter out (become smaller and smaller until they simply disappear).
The Blue Ridge Mountains were named by early American settlers who journeyed west from the Coast of North Carolina. The mountains have a blue haze that seems to hover over them-making them appear a hazy blue color. The phenomena is said to result from a chemical being naturally released by the trees. One of my favorite books, tells the story of one of those early pioneers.
Even though I've lived smack dab in the middle of the Blue Ridge Mountains my entire life-each summer when the trees have leafed out to their full glory- I'm still awed by their beauty and shocked by their overwhelming presence.
Years ago I came across an interesting debate in a book and I've never been able to get it out of my mind. The gist of it being-folks who live in the mountains feel protected by the high ridges and mountain tops-but people who are'nt native to the mountains sometimes feel smothered and confined by them. On the other hand-folks who are native to the plains of our great country are comforted by the wide open spaces where there is plenty of room to see what's coming-while mountaineers who visit the plains often feel naked or unprotected by the landscape.
I guess it's a Prairie vs. Mountains mentality. Since I've never been to the plains I can't say for sure how I'd feel-but it does seem I would feel like looking around for a place to hide. Hide from what-I haven't a clue. Here where I live-it consoles me to know I can run behind the next ridge over into the next holler and be gone from sight. Sounds like I need to be debating what I feel the need to hide from-instead of the mountain vs. prairie mentality.
Would love to hear your thoughts on the Prairie vs. Mountains debate-hope you'll leave me a comment.
Tipper