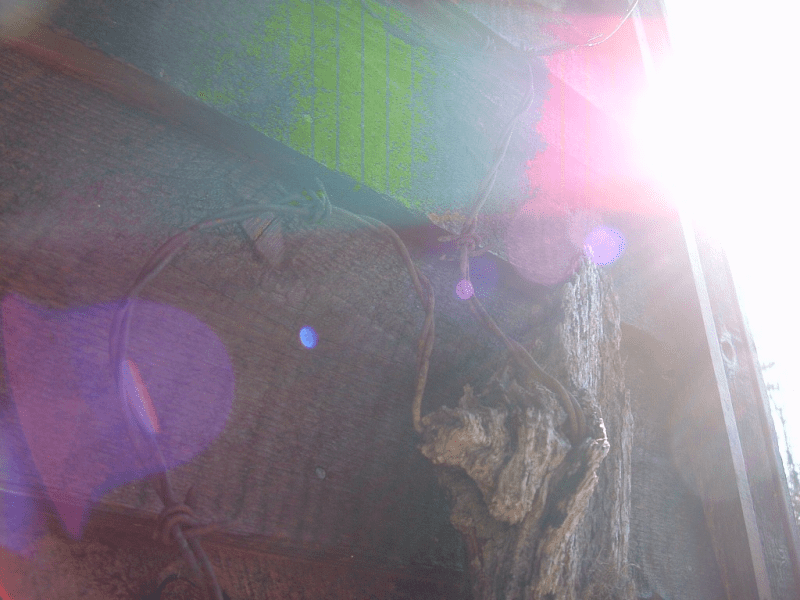 One day this week I heard Chitter asking her Daddy about daylight-more specifically why it was staying daylight longer in the evenings than it had been.
Their conversation reminded me of the photo above. I took it on our porch last summer. I was trying to get a shot of a piece of found art we have hanging on the wall. Its a small piece of dried wood with a piece of barbed wire growing through it. The sun was shining brightly just off the end of the porch. It was just about to peek around the edge of the house. When I loaded the photo on the computer I was surprised at the colors my camera picked up in the rays of sunlight. Its almost like I captured daylight.
Like me you've probably heard the sayings about daylight your whole life-ones like:
He scared the ever living daylights out of me
He beat the daylights out of me
I knocked the daylights out of him
On The Phrase Finder website I discovered during the 18th Century daylights literally meant eyes. Here is a direct quote from the website:
Usage of 'daylights' was largely limited to the eyes and to threats to close them by force. The first known citation of the word is one such example, in Henry Fielding's novel Amelia, 1752:

"Good woman! I don't use to be so treated. If the lady says such another word to me, d–n me, I will darken her daylights."
The Phrase Finder website pointed out using the plural daylights made sense-since we have 2 eyes. The article also stated that the 1987 James Bond movie-The Living Daylights was responsible for bringing the term back into common usage.
As far as I know the use of the word daylights has never went out of fashion in Appalachia.
Tipper
Appalachia Through My Eyes – A series of photographs from my life in Southern Appalachia.