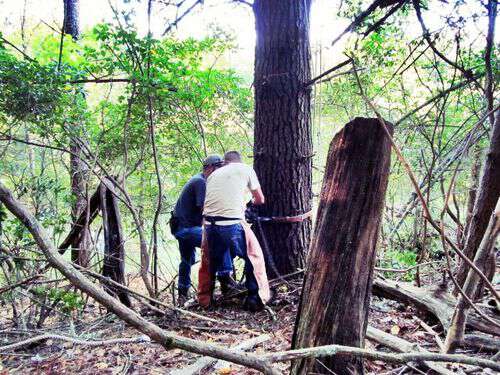 fall transitive verb To fell a tree using a broad axe or felling axe (esp in phrs fall a tree, fall the timber).
1956 Hall Coll. Roaring Fork TN I was fallin' a big chestnut tree, and it struck a dead locust which fell against me, and I had to lay out doin' anything for two or three weeks. (Dick Ogle) 1958 GSMNP-110:39 My job was to chunk with the saw to fall the timber in the best shape without breaking it. 1960 Mason Memoir 110-11 It was the responsibility of the chipper to decide the most desirable direction in which to fall the tree. 1983 Pyle CCC 50th Anniv A:2:18 Somebody in the crew is supposed to know how to fall a tree.
~Dictionary of Smoky Mountain English
——————–
Although I love the smells that surround cutting wood, I'm a fraidy cat when it comes to falling the trees.
The Deer Hunter and I were in total agreement about cutting all the pines that could possibly come down on the house in a storm. There was one tree that was a maybe on our list. It couldn't possible hit the house if it came down…but it was the main offender in shading my garden and over the last 2 years its shadow had lengthened to hover above the greenhouse in early spring before the sun rises higher in the sky.
Chitter said "You're not cutting that tree it's my favorite and it's the biggest one we should leave it. You're not cutting it period. We should leave it." Her Daddy said "Well we'll leave it to the end and then we'll talk about it."
Granny is a fraidy cat when it comes to anything that can be the least bit dangerous-I guess that's where I get my tendency to close my eyes and cover my ears when something loud is about to happen. One evening the girls called to let me know I needed to park at Pap's and walk up since some of the trees were liable to land in the driveway.
Granny and I went out on her back porch to see if we could see anything before I walked home. We heard the boom of a falling tree and then complete silence. I said "I hope everyone's ok it's unusual not to hear the girls talking or laughing." In the softest voice you've ever heard Granny said "Hello are you alright?" I got so tickled at her! I said "Now who do you think could hear you?" About that time we heard excited voices and knew all was well.
The next evening I was able to drive all the way home since the tree cutting had moved farther along the ridge. As I got out of the car The Deer Hunter yelled down at me "Do you see what's missing?" I said "Well yeah some trees." He said "No the big one."
I had completely failed to notice that the monster pine that had stood sentinel over the yard for so long was gone. I said "I thought you were going to wait to the end?" He said "We just got a wild hair and decided it needed to go too." I said "Well I'm glad I wasn't here to see it fall, I bet it shook the ground and it would have scared me to death!"
Even though I wasn't there, I got to see it fall anyway and thanks to Chatter's cell phone you can see it too.
Even though the tree has been on the ground a week it still scares me every time I watch the video. Sad to see it go in one way, but good in the sense that I can already envision what the extra sunshine will do for my garden next summer.
Tipper