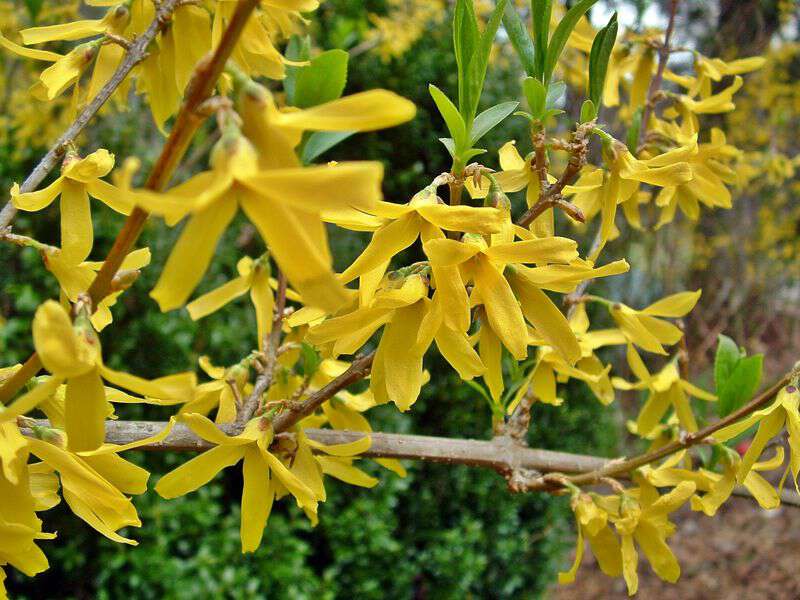 Seeing Yellow Bells (Forsythia) in bloom is such a cheery sight. Taking a nod from Granny, I let mine grow wild and allow the yellow laden limbs to spray in whatever direction they decide to take.
I am beyond blessed. I hardly ever have a bad day, but recently I did have an absolutely frustrating day.
As I walked to my car that afternoon I spotted a rounded yellow bell by the corner of a building across the way. Silly I know, but seeing that rounded yellow glow made me teary eyed. Never mind that I had walked past it that morning with nary a glance in it's direction-I guess I had walked by it for a good few days without noticing it.
I instantly felt a lift in my spirits and thought "Well that's a nice gift to brighten my way." I couldn't wait to get home and see if the yellow bells that line my driveway were in bloom too. They were. I have no idea if they've been blooming for a few days or a week.
Back in the day when we first moved into our house and I was looking for things to plant in our barren red clay yard, Granny showed me how to plant yellow bells. She said "Come Spring of the year we'll get you some cuttings from my forsythia bushes, all you have to do is stick them in the ground and they'll live."
It wasn't that I didn't believe Granny, but it seemed impossible that all I had to do was cut a piece off and stick it in the dirt and I'd have my own yellow bell bush. Nineteen years later those yellow bells are still alive welcoming Spring and bringing cheer.
Tipper