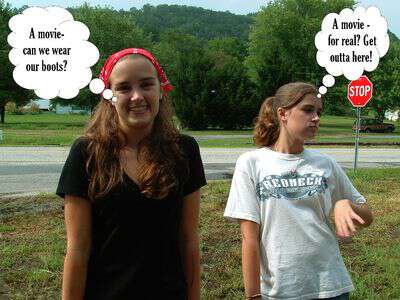 Remember when Chatter and Chitter couldn't believe they were gonna be in a movie?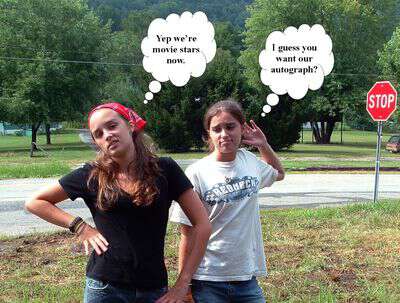 Well since seeing the almost finished movie back in October they are now in danger of getting the big head about the whole thing!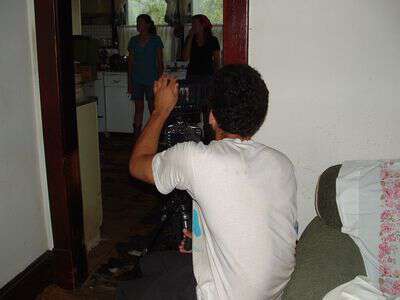 Actually-the girls and I still can't believe we ended up in a movie. The version we saw back in the fall was the almost finished version-with the story and most of the scenes the way they would be in the final movie-but with additional sound editing yet to be done.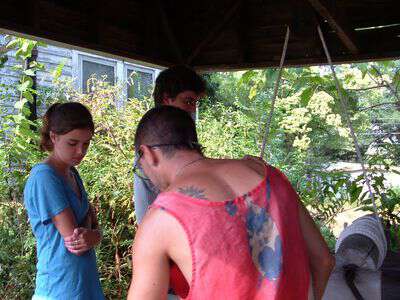 Before viewing the almost completed movie-I thought it would be good-I mean how could it not be-it had my children in it? But when I thought back to the days we spent shooting our scenes at the old house-I was slightly nervous. Not that we didn't have a ball of fun-cause we did. I guess it was more that the filming process/directing process wasn't as precise as what I imagined it would be. Bruno and Harrison (Directors and Producers) kinda told us the gist of the scene we were about to film and let us come up with our lines on our own.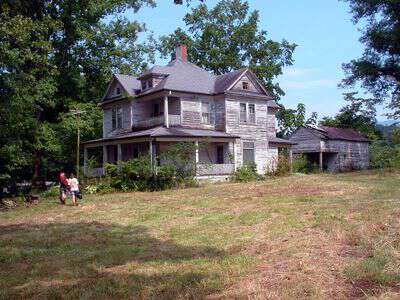 Turns out-the movie wasn't just good it was great! There were parts of it that were so real so perfect I felt like weeping-while other parts had the entire audience laughing. It is truly a movie everyone can relate to-a tale about a boy finding his way with the story of old time music woven along the road he finds himself traveling on.
My part was cut down to one line-I was so glad-with only one line-I don't sound silly at all. And my one line is a phrase I've had lots of practice saying since I had the girls. Chatter and Chitter have bigger parts-but still play only a minor roll in the story of the movie.
One of the main characters in the movie is Tim Ryan from right here in Brasstown. After the show was over and we were all discussing how good it was Tim said "it's like they got us together, let us act like ourselves and somehow made a movie of it." Tim is right-Bruno, Harrison, and Forrest had the story in their heads-and its like they magically got us to tell it even though we didn't even know the story!
Another friend from Brasstown told me she enjoyed the movie as much as I did-but she was anxious to see how folks who weren't familiar with western NC-who didn't have a connection to the film would feel about it. Well we're about to find out.
The movie is finished-it now has a real name: If I Had Wings To Fly-and its first showing in a film festival is right around the corner. The movie will be part of the Appalachian Film Festival in Huntington, West Virginia. If I Had Wings To Fly will start the festival on Thursday February 23 at the Black Sheep venue.
If you live in the Huntington WV area-I hope you'll check out the movie. I'm hearing-it won't be too long till If I Had Wings To Fly will be shown in Asheville, NC-I'll be sure to keep you updated on the details of future showings. Till then-Chatter and Chitter will be taking it easy-keeping their sunglasses handy just in case anyone recognizes them on the street.
Tipper