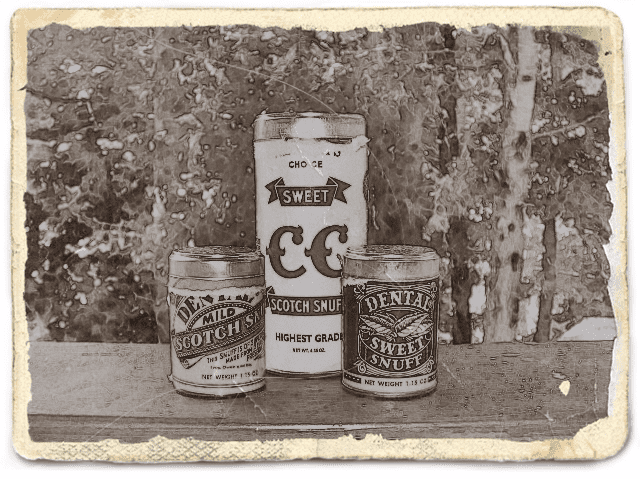 Someone left a comment the other day about their grandmother dipping snuff. Both my grandmothers dipped snuff at one time or another. In those days, things were different and the health risks of tobacco weren't discussed like they are today.
Back in the day when tobacco use was more common children often pretended to smoke or dip.
One of my best friends wanted to be like her aunt who happened to be a smoker. When she was just a small child she decided she'd make her own cigarettes out of rolled up book pages. Luckily, her mother found her just as the fire in the bedroom started from her attempts.
I remember us kids picking up sticks and playing like they were cigarettes. You could even get candy cigarettes in those days along with Big League Chewing Gum that mimicked chewing tobacco.
A few years back Blind Pig reader Wanda left this comment:
"When we were kids, we'd sneak and mix cocoa & sugar–we called it snuff & ate it while pretending we were dipping."
I don't remember pretending to have snuff, but Wanda's comment sure does remind me of something, maybe I saw some other kids making up their own sugar and cocoa concoction.
When I was a little girl Pap rolled his own cigarettes. He was a Prince Albert man. I can remember sitting in his lap and playing with the holes he'd burned in his shirt or the can in his pocket.
One time I asked him why I couldn't smoke. He said well I could if I wanted to. He let me have a big puff of his cigarette. I started coughing my head off and he just about died laughing at me. Today that would be considered child abuse, but it's one of my fondest memories. I can still see the teasing way Pap's eyes squinched up as he laughed.
Tipper
Subscribe for FREE and get a daily dose of Appalachia in your in