Today's guestpost was written by B. Ruth. She was inspired to write it after I posted about our Christmas trek though the snow 2 years ago.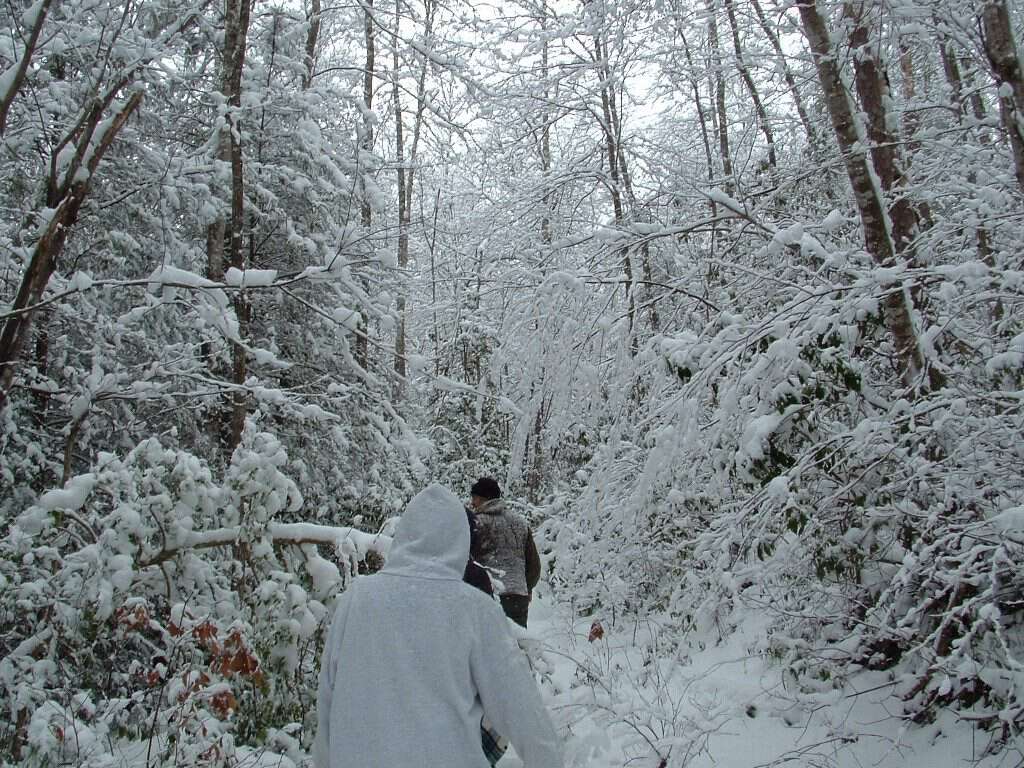 Two Days After Christmas or In Cougars we trust… written by B. Ruth.
Two days atter Christmas
When all thru the woods,
All critters where stirring,
in our neighborhood…
The stockins' come down from
the chimley whar warmed.
In hope of a jaunt in the snowstorm.
The young'ns were restless all tired of their sleds
as visions of snow cream danced in their heads..
And Ma in her kerchief since she lost her hat.
Pa pulled on his bootstraps, he'll find it ..I'd bet!..
When out on the trail there arose such a clatter
But it was just jawin' from Chitter and Chatter!
Away to the forked path, which way should we turn.
Leftways or rightways we had something to larn…
Them flurries they fell on the breast of the snow,
Give such a glisten to limbs that hung low…
When what to our wanderin' eyes should appear,
Trace of a cotton-tail, "Yes dear, right thar!"
Tippers' shutter was goin' click, click, click!
Deer hunter come up to them lively and quick!
When huge paw prints come close into view,
he whistled and shouted,
"See here you two!"
I'd say its a 'Panter' or 'painter', cougar or cat tracks,
But I'm not too sure, let's think about that..
As he was lookin' he called them by name,
"No Stasher, no Boomer, No 'coon, or Coyote that's been lamed…
Nor Br'er bear, 'ner fox vixen or Civet, or deer
"I'm bamboozled, but don't panic, Ya hear!"…
As thoughts of the animal swirled all about,
The wind hit blowed thus with no doubt,
Obstacles flew like the screams of the girls
to mount in the sky and "boogered" their curls!
To the top of the ridge, to the top of the bald,
"Stop eating the snow Chitter we have to go!"
So onward they plod, the left course did choose,
Pa shouldering his 'smoker' and skinnin' knife too…
And then in a inklin' the paws they did cross,
It had leaped ore the path a ways where they'd walked.
As I drew in my breath and was turning around,
In the curve of the roadway "spooked" prints did abound!
Dressed all in fur, from its head to its foot,
Tawny, long whiskered, long tail, hope it stays put!…
A bundle of mystery was too soon forgotten.
The crunch of the snow, made us tighten our 'boggans.
Their eyes how they twinkled, their words were so cheery,
Remember White Christmas and hold to those dearly.
Until the tracks again were drawn in the snow,
They came from above us to stalk us below!
A thought was inspired as Pa said tongue-in-cheek,
"If hit's an Ewah, it may have no teeth!"…
Deer Hunter's so funny, the girls laughed it's chilly,
The way to the house is long and its hilly.
We jumped it I know n'since it has snowed,
The tracks may foller us all the way home!
A blink of her eye and a step on ahead,
Tipper was footin' it to tell Pap what'd been said.
They spoke not a word as downward they worked,
Hoping that no one would think them as jerks!
And layin' the questions aside for a pose,
An aura gave nod up the mountain arose,
A squall from the treetops encircled the earth,
Away we flew home ending the search!
No huntsman has seen one I've heard them explain,
I'm sure that the spirit of Cougars remain…
Fer when we retired and the coats were all hung…
A 'Paniters' short hair was wedged on the heel of the gun!..
written by B. Ruth
—————————-
Hope you enjoyed B.'s Christmas tale as much as I did! If you missed my post about mountain lions and snow that first inspired her to write it-go here to read it.
I never did find my hat that I lost on the Christmas hike. Maybe some critter drug it back to their house. I hear some of you are expecting snow or have already gotten some-I'm hoping we get at least one big snow this winter-so send some my way if you get tired of it!
Tipper