The only post in the top 10 most popular Blind Pig & the Acorn posts that isn't about food in some way shape or form-is one I carry with me everyday.
A couple years ago, Ed Ammons, Blind Pig Reader, told me you could make a ring from a real silver quarter-in other words a quarter that was made in 1964 or before. He generously offered to make me a ring from a year of my choice.
Like a real pain in the neck, I asked for a quarter ring from the year Pap was born 1937. It took Ed a while to find a 1937 quarter.
I still feel guilty for asking for a specific year-I should have just said any year will do. But I do enjoying sliding that pretty ring on my finger each day knowing it symbolizes the year Pap was born as well as the friendship I made with Ed via the Blind Pig & the Acorn.
Since I published Ed's guest post in 2012 a friend of mine has made several rings for herself and family members; and a couple emailed me to say they would be using the method to make their wedding rings.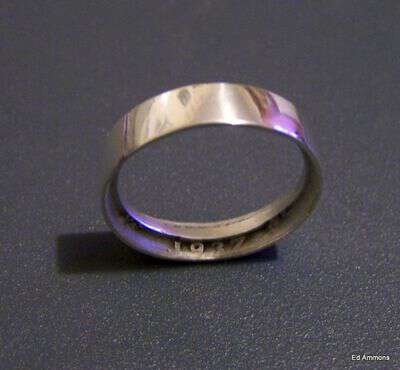 A Shiny Little Silver Ring written by Ed Ammons
How I made a ring from a 1937 silver quarter.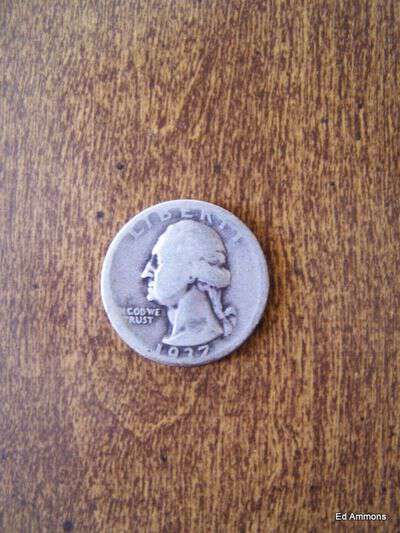 The first and most challenging thing I had to do was to find a 1937 quarter dollar which wasn't worn too much to show the date. I searched all over Burke, Caldwell and Catawba Counties for a coin dealer without any luck. I feared I would have to go to a bigger town or risk buying it off the internet sight unseen.
Finally someone told me there was a coin dealer on Springs Road in Hickory. I rode up and down looking for a sign but didn't find anything. I thought "maybe I need to ask somebody" and pulled in to a place called Oz Jewelers.
Oz turned out to be Oz Hefner. Oz is a really nice guy. He didn't know of any coin dealers close by but he had some silver coins at home. He took my number and said he "had the grandchildren this weekend" but would look when he had time and call if he had a 1937 in good enough condition to do what I needed. After a couple of days of phone tag I got to talk to him and went back to his store pick up the coin. Oz charged me $5.75, the melt value of the silver it contained.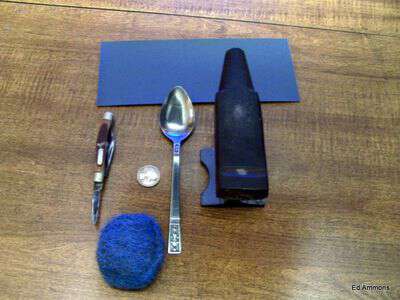 Caution! If you attempt this project please be careful. Keep your knife and your mind very sharp. One slip could land you in the emergency room. But, It can be done safely. I completed mine without a single nick.
What you will need
A silver quarter dated before 1964
A heavy stainless steel soup spoon
A knife with a small sharp blade
A Brillo pad
A sheet of 2000 grit sandpaper
An anvil (or any flat heavy piece of steel)
No power tools were used at any time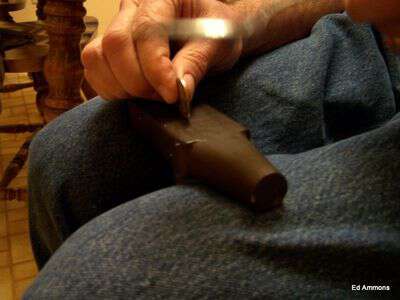 The idea is to tap the rim of the coin firmly with the outside of the bowl of the spoon. There is reasoning behind the use of the spoon. Each tap leaves a u shaped dent (dimple) that spreads the silver in both directions. Begin by placing your anvil or metal across your legs or between your knees.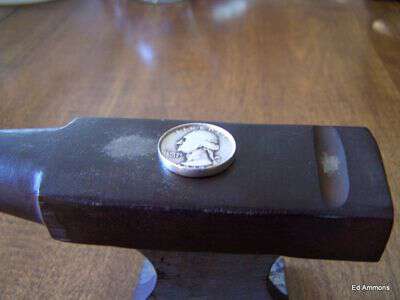 Holding the quarter firmly between your thumb and index finger, place it on the anvil as nearly perpendicular as you can hold it. Begin tapping the rim and turning the coin slowly as you tap. Once you are half way around each tap will spread your dent further when it contacts the anvil.
This is a long process but the outcome is rewarding. You can listen to music, (I recommend the music of Paul and Pap or the Pressley Girls of the Blind Pig Gang) watch TV with one eye or chat with a friend. But concentrate on making the spoon contact the rim of the quarter as squarely as possible. As you continue to tap and turn you will notice the rim of the coin starting to spread.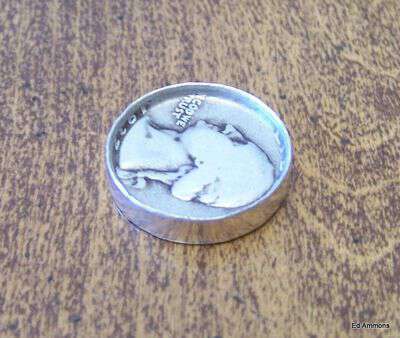 Every tap makes the rim wider and the circumference of the coin smaller. Details from the obverse and reverse (heads and tails) start to move toward the inside of the rim.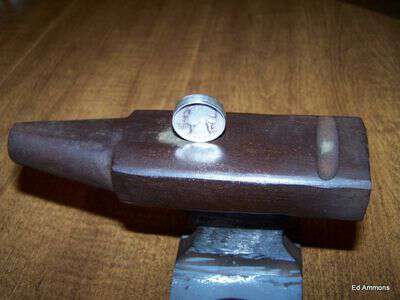 Be careful not to hit too hard or off center. This is the reason you are using a soup spoon. It is just the right weight and its shape insures that only a tiny portion of it strikes the coin. You are much less likely to deliver a glancing blow.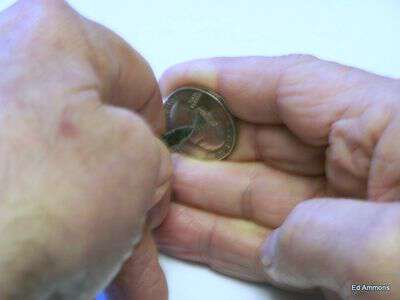 After innumerable taps with the spoon and turns of the coin the rim looked wide enough to be a ring. It measured a little over 3/16 of an inch or 5mm. All of LIBERTY and 1937 were inside the ring, plus part of IN GOD WE Trust and the end of George's pigtail. On the reverse UNITED STATES OF AMERICA and QUARTER DOLLAR were inside.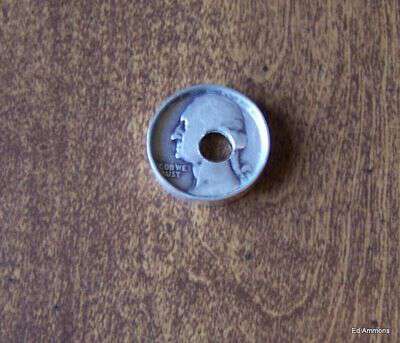 At this point the outside edges were a little rough. I put my sandpaper on a table, laid the coin down on it and slid it across and back until the edge was smooth. Then I turned it over and did the same thing to the other edge.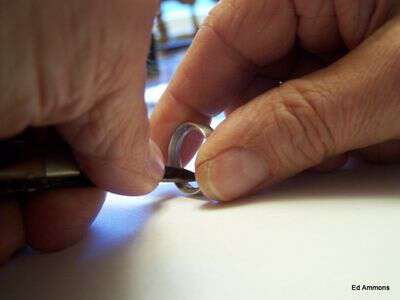 (These instructions are written for a left handed person. If you are unlucky enough to have been born righty simply switch hands)
Now the only thing keeping it from being a ring it poor George's head. The next step is to make a hole as near the center as possible. In George's ear is a good place. Put the coin against the index and middle finger of your right hand. Hold the knife in your left hand with your thumb and index finger on the blade about ½ inch back from the point. Hold the body of the knife with the other three fingers against the palm of your hand. Put the point of the knife in George's ear and start the hole by turning back and forth, another slow process.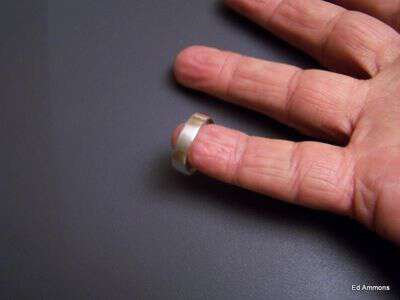 When the hole is through to the other side, you can turn it over and work from that side. When the blade comes through far enough that you can feel it, you need to stop and reposition your work. Now you need to stand the coin on its edge to work on it. Use your thumb and forefinger to hold it and press it down firmly against the table.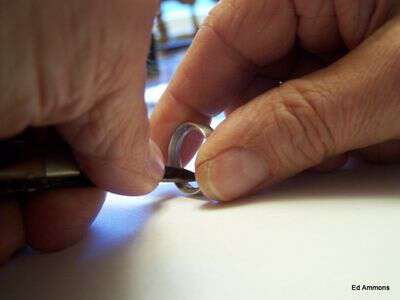 Now you can begin to pare away at the inside of the little hole you have started. As the hole gets bigger the work gets easier.
Now you have a ring. But who's going to wear it? If its for you, continue to cut away at the inside until it fits a little too snugly. When you sand it inside, it will be perfect. If it is for someone else you can try it on them until it fits. If it is to be a surprise, get a ring of theirs that fits and try it on your finger. When the new ring fits like theirs, you are done.
Next use you your 2000 grit sandpaper to smooth the inside taking care not to remove any of the date or lettering from inside the ring. Polish the outside with the steel wool pad followed by a cloth and a dab of glass cook top cleaner, then a clean dry cloth.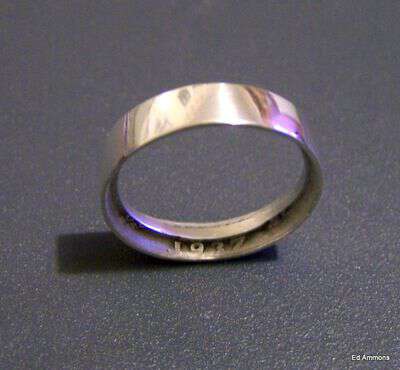 I first saw this done when my father made my mother a wedding ring. My parents were poor folks and couldn't afford to exchange rings when they married. So, after several years and six children and still not enough money to afford a ring, Daddy made one.
Daddy was in the Army during WW2 and was stationed on an island in the South Pacific. He had seen other soldiers there making rings like this for their wives and girl friends during the long boring hours and days.
I was old enough to watch and remember how he did it when Daddy made his, so when my wife lost her wedding band in the Atlantic, I made her a replacement like Daddy did. She loved it, as my mother had, so I decided to make another and record the process so it can be passed on to another generation.
Caution! If you attempt this project please be careful. Keep your knife and your mind very sharp. One slip could land you in the emergency room. But, It can be done safely. I completed mine without a single nick.
—————————–
Pretty cool ring uh? I am so glad Ed made me the ring-its truly something I will always treasure. And I'm glad he documented the steps for future generations too!
If any of you decide to make a ring and have additional questions you can email them to me at [email protected] and I'll pass them along to Ed a.k.a silver ring maker.
Tipper