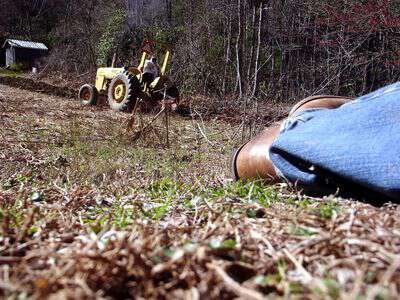 Yesterday morning caught the Blind Pig Family in a bind. We'd been meaning to clean off Pap's big garden for several weeks-seems every weekend has either been full of rain or full of places to be.
About 8:30 we got the news a friend was coming to har the garden. Most folks clear off their gardens in the fall after the summer growing season is finished-not us-we're never that organized.
We were knee deep in another project but had to drop it and run down to the garden to wind up the bean wire; pull up the bean stakes; and clear the leftover cornstalks. We finished in time-and then sat garden side to watch the garden being plowed and harred.
You may be asking yourself what in the world does har the garden mean? If you are- I'm positive you're not alone. Har the garden is the Appalachian way of saying harrow the garden.
A few years ago har was a word on one of my month vocabulary test-not many folks were familiar with the word. A few of the comments from back then:
Miss Cindy: I learned the word har from the Deer Hunters Papaw James. He told me I needed to get the garden hared. I said what is hared? He said you know cut. I said what does cut mean? He said you know hared. Well that could go round and round all day. When the Deer Hunters dad came home from work I asked him. He explained that piece of equipment is called a Disk Harrow. It is an attachment for a tractor. I had seen many of them but never heard the name.
Warren: Har is a new one for me…the others I know…
Vicki Lane: Heard em all — and had to laugh about har. I was a tutor with a remedial reading class in the local high school and my student was reading something for me. He bogged down at the word 'harrow' and I said 'You know what that is — the triangular thing with teeth that you drag across a plowed up field to smooth it.' 'You mean a har?' he said.
Lanny: When you say "I truly thought har was a real word" you make me laugh, there are so many words like that from my childhood, words that aren't even colloquial, but that were used by my family so much that I thought for sure they were real words.
Got your garden hared yet?
Tipper
Appalachia Through My Eyes – A series of photographs from my life in Southern Appalachia.