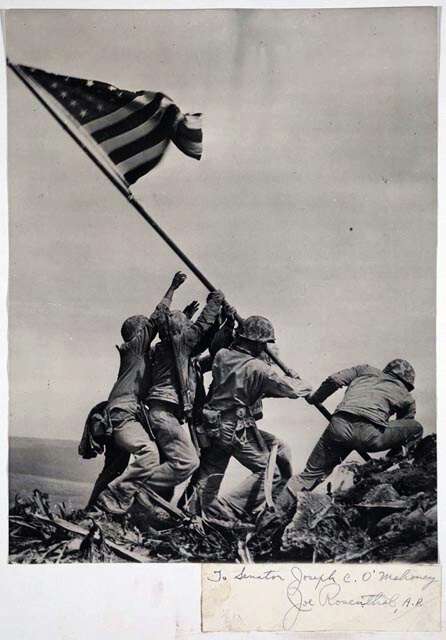 Photo from Library of Congress –
American Marines raising American flag on Mount Suribachi, Iwo Jima, 1945
Memorial Day was created to honor fallen soldiers of the Civil War and was originally called Decoration Day. John L. Logan is largely responsible for organizing the day, and in 1868 declared:
The 30th of May, 1868, is designated for the purpose of strewing with flowers, or otherwise decorating the graves of comrades who died in defense of their country during the late rebellion, and whose bodies now lie in almost every city, village, and hamlet churchyard in the land. In this observance no form of ceremony is prescribed, but posts and comrades will in their own way arrange such fitting services and testimonials of respect as circumstances may permit.
As time, and wars, went by people began honoring all fallen soldiers on the day no matter when or how they had served their country. In 1971 Congress officially declared Memorial Day to be an official holiday occurring on the last Monday in May to honor all who have given the ultimate sacrifice serving in the Armed Forces of The United States of America.
Pap and Paul learned the song Mansions of the Lord from the movie We Were Soldiers. The song plays as the credits roll, so a lot of folks missed the song even if they watched the movie.  We've always called the song Fallen Soldiers. It was only as I researched it's history that I learned the real title.
Mansions of the Lord (music by Nick Glennie-Smith/Words by Randall Wallace)
To fallen soldiers that are seen
Where no rockets fly nor bullets sing
Our broken brothers let us bring
To the mansions of the Lord
No more weeping of our fight
No more searching through the night
Trust in Jesus name eternal life
In the mansions of the Lord
Where no mothers cry nor children weep
We shall stand and guard though the Angels see
All through the ages bravely keep
The mansions of the Lord
The mansions of the Lord
Pap raised us with a healthy dose of thankfulness for the soldiers who stood in the gap and sacrificed for our freedom. He was a Marine during the mid to late 50s so he didn't serve in a direct combat situation. He'd be the first to tell you his time in the armed services was easy compared to those who did see combat.
Pap spent a large portion of his service in South America on a ship. I have always had horrible motion sickness. Pap told me he had it too…until he was put on the first ship. He said after a few days of misery his body finally adjusted to the motion and he never had to worry about getting motion sickness again.
Since Pap's accident and heart attack last May he knew his time was drawing nigh. As the family talks about him we can all see clearly how he was completely prepared for death, but it seems he spent the last year preparing us for his death.
A few things that happened the week before he passed make me think he knew his journey across Jordan was coming soon. He shared a memory from the Marines with Granny that none of us, including Granny, had ever heard before.
The ship Pap was on was in a South American port. Several Marines had leave and went into town. A few of them had too much to drink, and one of them got in an argument with some of the locals. The fight escalated and the soldier ended up busting the windows out of their car. Pap told Granny some of them took up a little money and gave it to the person who owned the car so that they could fix the windows because they felt bad about it.
Granny said Pap cried as he told her the Marine that damaged the car disappeared, they never seen him again. Pap said they figured the locals killed him and maybe he asked for it, but he had always worried that a ship full of Marines might have been able to find him if they had tried. Granny said Pap also cried about a soldier that fell overboard and died during that same mission.
I believe Pap felt he had to tell Granny about the soldiers he had silently mourned for so many years before he passed away.
I'm positive the patriotism Pap instilled in each of his children and grandchildren came from his great respect to every soldier who served; especially those who perished fighting valiantly in battle and while going about their daily duties giving the ultimate sacrifice for our freedom.
Tipper