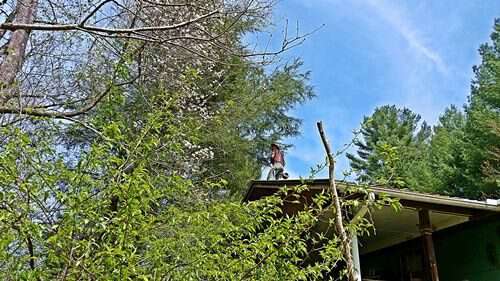 Our spring garden seems to be going a little slow this year. Not sure if it's the cold weather we've been having or that I'm just impatient for things to grow.
The lettuce and kale we planted back in February are finally coming along. I also have kale and lettuce that made it through the winter. Not much of the fall planting survived our unusually cold winter, but a few plants did and we've been enjoying them. So have the chickens.
Last weekend we planted Sow True Seed beets, lettuce, radish, spinach, turnips, and horseradish. We also planted some onion buttons I picked up in town.
Chitter and I got Granny's onions and lettuce planted a few weeks back and I planted her a row or two of Sow True Seed Turnips while we were out working over the weekend.
The major chore we accomplished was cutting the hemlock tree back from Granny's porch. If you look close at the photo above you can see The Deer Hunter on the roof. The tree's branches were laying on the porch roof. He used his hand dandy pole saw to reach the limbs from the roof. In between cuttings I tossed the brush off Granny's bank.
Granny wants to be outside so bad and I don't blame her. Who wouldn't want to be out in the spring sunshine with the earth awakening around you? But oh my I worry about her being out there by herself and falling. I worried last summer too, but compared to this year she seemed downright spry last summer even though she wasn't. I asked her if she'd use a cane if I got her one. In typical Granny fashion she said "I already have a cane."
Tipper
Subscribe for FREE and get a daily dose of Appalachia in your inbox