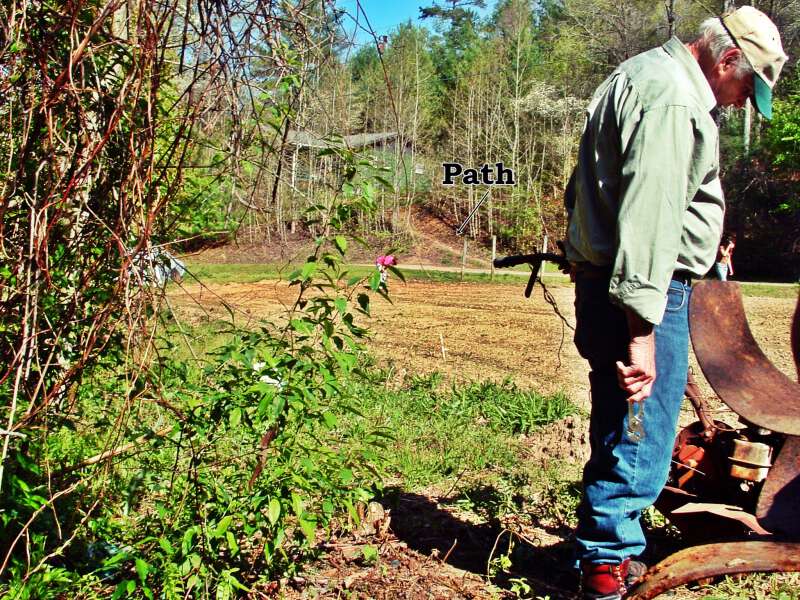 From house to house he goes
A messenger small and slight,
And whether it rains or snows,
He sleeps outside at night.
~Riddle from The Frank C. Brown Collection Of North Carolina Folklore
——————————————-
The answer to the riddle is a path.
The photo above, shows the path that leads from about midways along our driveway down to Pap's big garden. Actually the path doesn't begin in our driveway, it starts at the steps of Granny and Pap's back porch. The path goes along through their yard and when it reaches our road it splits.
One path leads off down to Paul's house, one leads up alongside our driveway to our house, and the other that you can see in the photo, goes on across the road, down to the big garden and on out to Steve's house.
Paths are very thought provoking. There are paths everywhere in this world, even in the largest cities you can find paths that cut through grassy areas or unused lots. People and animals make paths which lead to their daily destinations. I find it fascinating that paths made by feet traveled in years gone by can still be seen today, even though no one has walked them in ages.
Way back in the day before I was even married, a fellow visiting our mountain holler made fun of the paths which led from house to house. At the time I felt embarrassed or slighted by his comment. All these years later, looking at the paths with older eyes, I see the paths which travel between mine, Pap's, Paul's and Steve's houses as a source of great wealth.
Tipper