Today's post was written by Paul.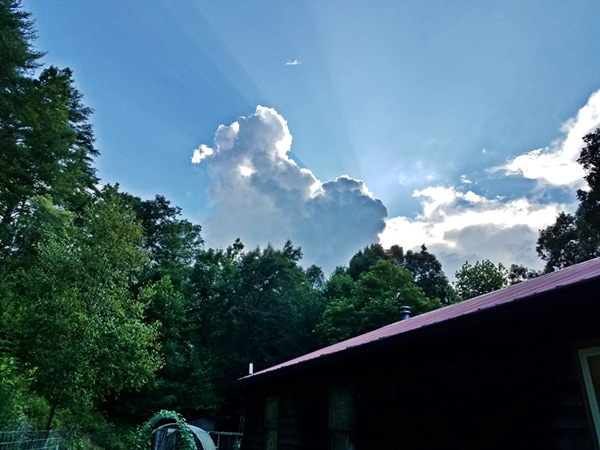 Tomorrow, Monday April 19, 2021, will mark the 5th anniversary of when Pap went on to be with the Lord.
I mentioned in a previous upload (I believe around April 2019) that I was lucky enough one day to record Pap singing five classic hymns by himself, just his voice and guitar, no overdubbing, no other instruments. This was when he was in his early 70's.
The songs were songs that he was in the habit of singing around that time, songs that he really enjoyed lyrically. They're all great, but the one I'm sharing today is probably the best one.
My original plan was to "release" one per year, culminating with this particular song. However, none of us are guaranteed tomorrow, and why not put this up for people to hear now?
Pap and his father, Wade, whom we all called Papaw, had an interesting philosophy when it came to "saving" things. They believed you should use your best first. This applied to food or any other resource. For example, when I was little, if we rented movies to watch, Pap would say that we should watch what we thought would be the best one first.
Pap told me that Papaw told him once, "Use the best you've got first, and then from then on, you'll be using the best you've got left," and "If you don't use your best first, pretty soon, it won't be as good as it was."
At first, I didn't agree with this perspective. For example, I thought when it came to stored food that it's best to eat the oldest first and work your way toward the freshest. But over time, I've found myself gravitating toward their philosophy more and more because, again, none of us are guaranteed tomorrow.
That's why I decided to share what I feel is the "best" one now–not first but second, and definitely not last.
It's a beautiful hymn with a fascinating origin. According to what I read online, the author was inspired when he looked up the etymology of the word "goodbye" and discovered that its original meaning was "God be with you."
The first time I heard the song was in an old radio broadcast of Jim Reeves, where he closed the show by singing a verse and chorus.
The writer, reportedly, wrote the song specifically for closing out services.
Reeves' version is quite a bit different from Pap's, and the same holds true for pretty much every version I ever heard. When Katie and Corie (aka Chitter and Chatter) graduated from Young Harris College, I felt like I sensed that they were wishing Pap was there to see it. Ironically, the YHC choir sang this very song as the opening hymn in the ceremony. Though their version was very different from Pap's, it was beautiful. I was disappointed that I couldn't find a version of the YHC choir singing it, but there are tons of other choirs singing it beautifully on YouTube.
This recording of Pap appeared in the closing credits of an original Christian film called Mack. The film garnered some attention in several film festivals, but unfortunately, it never found a distributor and has never appeared in theaters.
The older I get, the more this recording of Pap means to me. It will be on the gospel CD, Lord willing, when I'm finally able to finish it. The audio quality will be much better on the CD than what you hear in an MP4 for YouTube.
Big thanks to Mr. Ron Priest who created the collage for the thumbnail and the "In Memory of Pap" collage that you see at the end of the video. That was very nice of him, and I really appreciate how he arranged the photos of me, Tipper, and the girls as if we're all looking up toward Pap, because, of course, we did.
Tipper loved this video when I showed it to her, but she recommended that that I remove some photos so that each photo could appear longer. I couldn't make myself take any out, and each one appears for only 3.5 seconds, but folks can always pause the video, or better yet, watch it again!
I'll close by saying, that I am so thankful that I was blessed with Pap as my father for more than 40 years. So many children in the world today have no father at all, or perhaps worse, they have one who is cruel and a bad influence. I look forward to the day when we will meet Pap again, just as he sings in this song, and like the song says, I pray that God is with you until that day comes.
Paul
---
Randy's wife Janice did not recover from complications after surgery. She passed away on Thursday. Randy thanks each of you for your prayers. I would ask that you continue to pray for Randy and his family. You can go here to leave a word of condolence for them.
Tipper
Subscribe for FREE and get a daily dose of Appalachia in your inbox