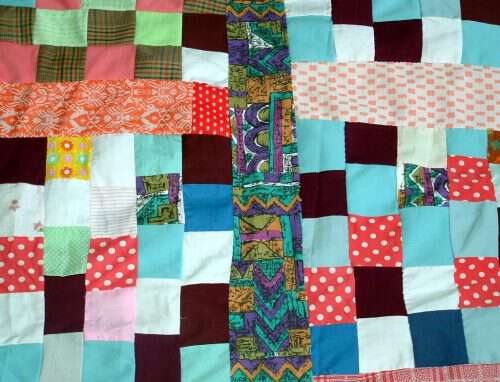 Back in the day-quilts were a necessity of life-actually they still are to a degree. Quilts offer warmth for our bodies-a way to protect ourselves from the cold. Yet, when you look back to the days of living in an uninsulated house with only a fireplace or cookstove to supply heat, you realize what an important role quilts played in the days of old.
The ability to quilt stretched across all social classes-you needed warmth from the cold whether you were well to do or poor as a church mouse. Even during the time period where quilting was a mandatory skill for women-it seemed they found true enjoyment in the process. Quilting offered a moment to rest your tired feet. Another pleasure that developed around quilting-was the quilting bee. Ladies would gather to quilt-and get to visit with one another too.
Quilting Bees sometimes included:
every woman bringing a quilt square
swapping quilt patterns
singing
talking
the old teaching the young
eating a meal together
and maybe-most importantly-a time to gossip
In the early to mid 1900s the manufacturing industry began to use machines to mass produce quilts. This lessened the need for quilting. Thankfully there were women who retained the knowledge and artistry of quilting. Women who continued to be part of sewing circles-women who made quilts for charities, for young folks in the community, for newlyweds, as well as for their families.
As I developed my business plan for the Blind Pig & The Acorn-I was struck by the irony of documenting Appalachian Heritage with cutting edge technology-a blog. I see the same phenomenon taking place in the quilting world.
There are still quilting circles in communities across the country-you can read about a few at Lisa's place. Quilters I've met through blogland have taken the quilting bee to a new level-a technologically savvy level. Dana, Amy, Christina, and Patti all come to mind, they each post about making quilt squares-not to keep-but to pass along to a member of their quilting circle. But they aren't taking the square to a local quilting bee or club-they are sending it to someone they've met over the Internet. It's like a virtual quilting bee. These ladies-along with many many others are continuing the great heritage of quilting-continuing to create beauty and warmth for their family and friends. Pretty cool uh?
For this week's Pickin' & Grinnin' In The Kitchen Spot-a song about a Quilting Bee- Aunt Dinahs Quilting Party.
Hope you enjoyed the toe tapping song! Makes me want to go to a Quilting Bee-how about you?
Tipper