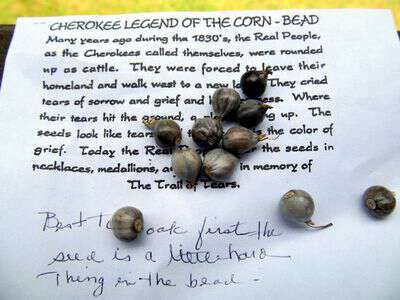 Cherokee Legend Of The Corn Bead
Many years ago during the 1830's, the Real People, as the Cherokee called themselves, were rounded up as cattle. They were forced to leave their homeland and walk west to a new land. They cried tears of sorrow and grief and hopelessness. Where their tears hit the ground, a plant sprung up. The seeds look like tears and their color is the color of grief. Today the Real People wear the seeds in necklaces, medallions, and earrings in memory of The Trail of Tears.
——————-
Last summer Blind Pig Reader, Peggy Lambert, sent me the legend above along with a handful of Cherokee Corn Beads so that I could grow my own Cherokee Corn Beads.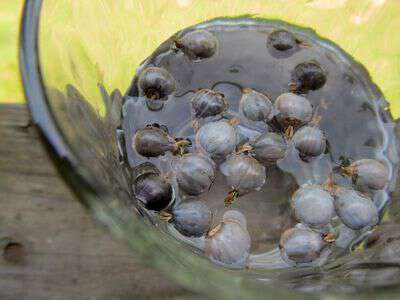 Peggy said to soak the beads before planting. Once the plants sprout-you can see why it's called the corn bead. The plant looks very similar to corn-but doesn't grow as tall.
As the beads begin to form on the plant they sort of hang down in a row-so they are easy to spot. Once the growing season winds down the beads will start to turn dark gray/black-which means they're ready to pick. You can store them in a paper bag until they finish drying out-or spread them out over a tray to finish drying.
After the beads are dry they're ready to use. Folks use them to make all sorts of jewelry-most of which you'd never guess the beads were home grown.
Peggy Lambert has done much to preserve her Cherokee Heritage-and I'm thankful she shared part of it with me. I don't have many beads to share-but I'd like to give some to at least one Blind Pig reader. Leave a comment on this post for a chance to win your own start of Cherokee Corn Beads. (*Giveaway ends Wednesday May 28, 2014 @ midnight)
Tipper