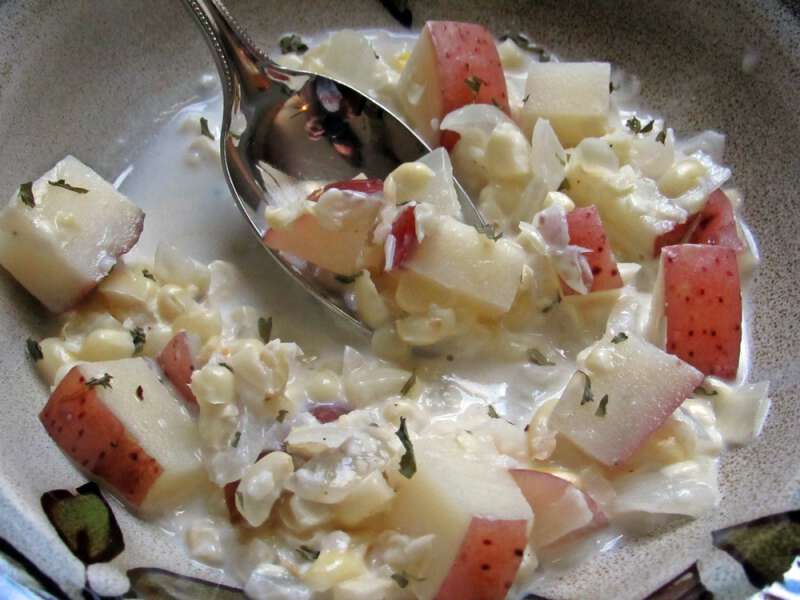 I like to make a pot of soup or stew on the weekends for an easy supper and to provide lunches for myself and The Deer Hunter during the coming week. I don't make them as often during the summer months because it just seems like soups and stews are better in the winter.
A few weeks ago I saw a recipe for Summer Corn Chowder in a Mother Earth News magazine. Since this is the season for corn I thought I'd give it a try.
Mother Earth News Summer Corn Chowder
6 ears sweet corn
2 large onions (one diced, one quartered)
2 stalks celery
2 bay leaves
6 stems fresh thyme, tied together (I didn't have any fresh so I used a little dried thyme)
1 and 1/2 tsp salt, divided
2 tablespoon butter
3 cup unpeeled, red-skinned potatoes, cut in 1 inch cubes
1 large clove garlic, grated or pressed
1/4 teaspoon nutmeg
1 cup heavy cream
2 tablespoon fresh flat-leaf parsley, finely chopped (I didn't have any fresh so I used dried)
black pepper to taste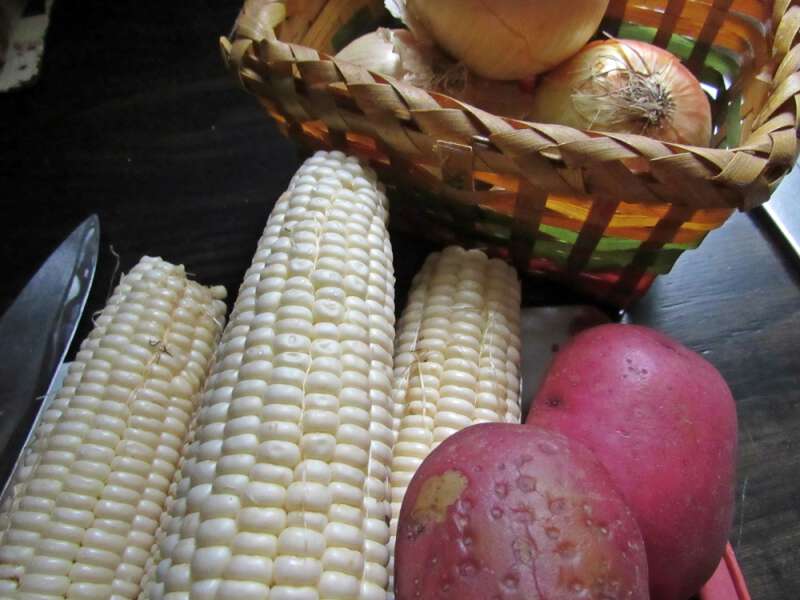 Cut kernels off cobs and set aside.
Place cobs in a large sauce pan with 2 quarts of water. Cut one onion and two stalks of celery into quarters and add to the water along with bay leaves, thyme, and a teaspoon of salt. Bring mixture to a boil and let simmer for an hour.
Take out the cobs and strain the liquid to remove the other items. The recipe said you would have about 2 cups I had more like 4 cups. Rinse pot.
Cook half of the corn in a small pan along with half the broth and simmer about 10 minutes. Blend the cooked corn with an immersion blender or food processor.
Add butter to large sauce pan and cook diced onion about 5 minutes. Add potatoes, the rest of the corn, garlic, nutmeg, 1/2 teaspoon salt, and the rest of the stock. Simmer until the potatoes are tender. Stir in blended corn, cream, parsley, and pepper.
The chowder and a cake of cornbread made a tasty supper and the left over chowder with a sleeve of crackers made a tasty lunch for the following work week. If you'd like to give the recipe a try-jump over to the Mother News Website to print it out.
Tipper