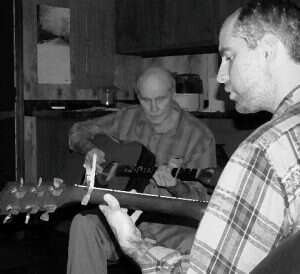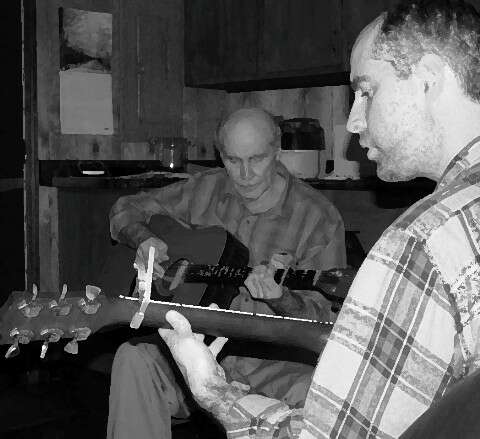 "Karl [Davis] and Harty [Taylor] recorded the song ["Kentucky"] first in January 1941 for the Columbia label, and the record was especially popular with lonely southern servicemen who found themsleves thousands of miles from the land they loved. But in 1947 the Blue Sky Boys (the Bolick Brothers) recorded the song, and it really became a bestseller, reportedly running up sales of almost half a million copies; it has since been recorded by dozens of country singers, including later Kentucky groups like the Osborne Brothers and the Everly Brothers. On the strength of its beauty, and its popularity, Karl Davis [who wrote the song] was made a Kentucky Colonel in 1970. It was one of the few tokens of recognition he received in later life for his immense contributions to country music." (Charles Wolfe, Kentucky Country: Folk and Country Music of Kentucky, University Press of Kentucky, 1982, p. 56)
Pap and Paul have been singing the song Kentucky for many years. Pap says we try to do to many songs-but we all agree there's just so many songs out there that need doing!
As we add new songs to our repertoire, some of the old standbys inadvertently fall by the wayside. A few weeks ago, Paul and Pap pulled Kentucky out of their hats and dusted it off to see if they could still do that high sweet harmony. Turns out they could.
The quote at the beginning of this post mentions the variety of performers who have recorded the song Kentucky over the years. My personal favorite is The Louvin Brothers-but a mighty close second would be Pap and Paul's version. Hope you enjoyed the song.
Tipper
*Source: Charles Wolfe, Kentucky Country: Folk and Country Music of Kentucky, University Press of Kentucky, 1982, p. 56