Today's guestpost was written by Charles Fletcher.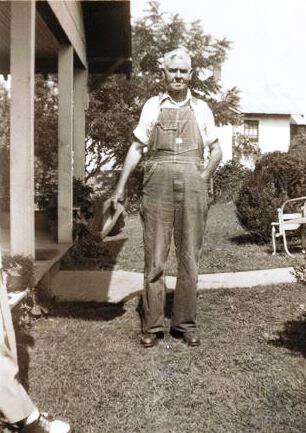 Grandpa Pressley written by Charles Fletcher
Charles Wesley Pressley was my
grandpa. To all of his acquaintances and
friends he answered to the name of "Charlie". If I asked the younger members of my family about their Great-Great Grandpa
"Charlie Pressley", most of them would probably say, "Who was Charlie
Pressley?" Therefore, I am writing this
brief history of my grandpa's life so that his descendents will know a little
about him.
Grandpa
Pressley was born in Haywood County in Western North Carolina on October 4, 1879. His father was Devoe Newton Pressley. His mother was Margaret Mehaffey. The two pictures that I have included here
are the only ones that I have of Grandpa.
Grandpa
Charlie Pressley married Mary Elizabeth Putnam in Clyde, North Carolina, in 1902. They had eight children. They were, in order of their birth,
William McKinley (October 17, 1903 – 1 September
1974)
Margaret Ellen (April 1, 1905 – 15 August 1999)
D. Alvin (February 20, 1907 – 1997)
Oral Neomia (September 24, 1909 – April 28, 1927)
Charlotte (July 10, 1912 – March 8, 1989)
Doyle Bob (September 25, 1914 – July 7, 1975)
Vernon (August 3, 1919 – September 25, 1986)
Clifford W. (July 18, 1920 – January 14, 1982)
In 1999, Margaret Ellen, my mother and the last of Grandpa's eight children, died. That was the end of Grandpa's immediate family. Some of the grandchildren are still living. I am one of them, and I am ninety-one years old.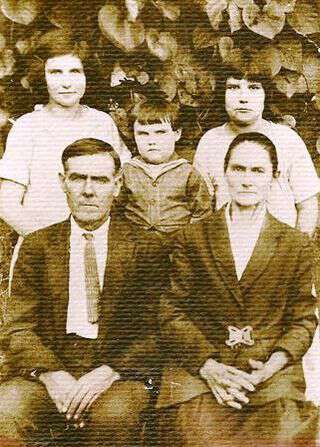 Grandpa was a descendent of Dutch ancestors. He was not a large man in body, but he was a very hard worker. Life was not easy for Grandpa. He had to work long hours farming on a mountainside to grow food to feed his large family. His children started working to help with chores at a very early age. There was always something they could do to help around the house and in the fields regardless of their age.
In the early part of the spring of 1927, there was a death in the Pressley family. The youngest girl, Oral, 18 years old,
died suddenly. She was the fourth child in the family. The cause of her death was uncertain. (Her death certificate
says she had pneumonia.)
I was five years old at the time Oral died. I can vividly remember how Grandma and a few neighbors on the mountain prepared Oral for burial. My mom had taken me to the house where her sister was lying in a wooden coffin. There was only one way to bring Oral's body to the Methodist church in the valley for the funeral and burial in the church cemetery. There was a long sled trail around the mountain leading to the house where Grandpa and his family lived. Her coffin was placed on a sled, and it was pulled by a horse to the church. All the family followed along except the twenty-year old brother, Alvin. He would not come into the house while the body of his sister was there, and he did not go to the church for the funeral.
A few days after Oral's burial, Grandpa announced that he was selling his house and belongings and moving to Colorado where the land was flat and he could buy a real farm instead of scratching out a little patch here and there to plant crops to feed his family. Grandpa had been to Colorado several years earlier. In fact, his son Vernon had been born in Colorado in 1919.
Grandpa sent a telegram to his friend in Colorado and asked about buying land. He received a return message saying that there was land for sale. Grandpa bought train tickets the following week, and all of his family, except his daughter Ellen, went by train to Colorado.
Later Grandpa moved his family back to the mountains of western North Carolina. Grandpa was a humble, easy-going man who had never done any harm to any of his fellowmen. He was very strict with his five boys. He never used alcohol in any form. He did, nevertheless, tolerate Grandma's having what she called her "medicine", which was two big spoons-full of moonshine whiskey mixed with sugar and water before each meal. Grandpa's chewed apple-flavored chewing tobacco. You would always see him wearing his denim overalls with his plug of apple tobacco in the pocket on the chest of the overalls.
I liked being with my grandpa, but as I grew older I saw less of him. I tried to visit him when it was convenient. I saw him even less often after Grandma died. He was seldom at home after she died. When weather permitted, he would spend his days sitting on a bench with some of his older friends in a park beside the main street in town. He had a lot in common with his friends. They all chewed tobacco and talked about the latest happenings and swapped knives every once in a while.
Whenever possible, I would find Grandpa and visit with him. However, as I grew older, I had less time to visit. I joined the Civilian Conservation Corps (CCC), I was in the US Army during WWII, and I got married and started raising a family of my own, so I very seldom saw Grandpa.
In 1953 I moved to Tennessee where I had found new employment, and I never saw Grandpa again. He died in 1953, the same year that I moved away. He was 73 years old. He was hit by a car while crossing the street in town, and he died at his daughter's home several months later.
Grandpa Pressley was a hard worker, he raised a large family, and he was never afraid to venture out and seek a better life for his family. Charles Wesley Pressley was a great man, and I am proud to have been named after him.
Charles C. Fletcher — April 26, 2013
———————
I hope you enjoyed reading about Charles's Grandpa as much as I did! Leave him a comment and I'll make sure he reads it!
Tipper