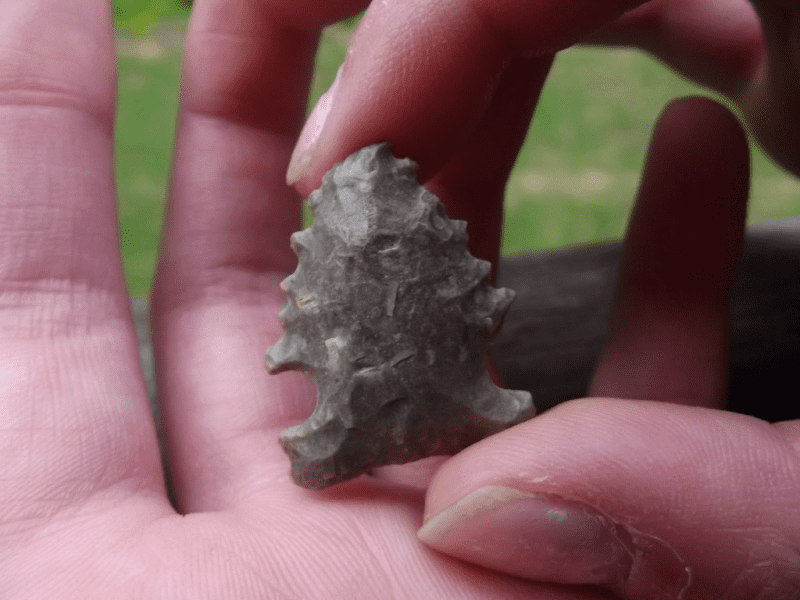 I've told you before-Chatter and Chitter are rockhounds. They're always on the look out for rocks that catch their eye. In the last 2 months Chitter has been a lucky dog when it comes to finding rocks-more specifically arrowheads.
It all started at school. The freshman and sophmore students partnered up for a school wide bottle rocket making project. They planned, they designed, and then tested their own prototypes. After going through the process of designing/building their own bottle rockets, each group was given a kit to build a rocket that would for sure fly.
Finally the big day arrived. The students gathered round in a field behind the school to watch the rockets take to the sky. Chitter looked down between her feet and there laid an arrowhead, just like it was put there specially for her.
Skip ahead to about 2 weeks ago.
The Three Indian Princesses are very familiar with the creek that runs through their stomping grounds. They know where there's a high spot in the creek. Unless there's been a heavy rain the creek goes around the little rocky high place. But whenever there's a heavy rain, the water rushes over the high spot and sometimes it leaves behind treasures.
The first clear day, after a good 2 days of heavy rain, Chitter said "I'm going down to the creek to look around." I swear she wasn't gone 15 minutes till she came running back with an arrowhead. She said "I just knew it would be there waiting in the high spot of the creek. I knew it before I ever went."
That statement reminded me of those 2 running legs that led her to hidden treasures a few years ago-if you missed that story you can go here to read it.
The last arrowhead story happened yesterday. She found the perfect arrowhead you see in the photo above.
The Deer Hunter was tilling in the big garden and Chitter was supposed to be standing by to help when needed and throwing rocks from the garden. Instead she was playing with the dogs. Chitter bent over to wrestle Molly-dog and spied the amazing arrowhead.
She ran and showed her Daddy, she ran and showed Pap, and then she ran and showed me.
Pap told her "The Indian that shot that arrowhead, went looking for it. He would have wanted that one back."
When she laid it in my hand, I held it against my cheek and closed my eyes. Chitter said "What are you doing?" I told her "I'm thinking of the Indian who made it. I'm thinking that he used it to feed his family. I'm thinking he walked in the same woods we do."
Yep Chitter's a lucky dog.
Tipper
Appalachia Through My Eyes – A series of photographs from my life in Southern Appalachia.