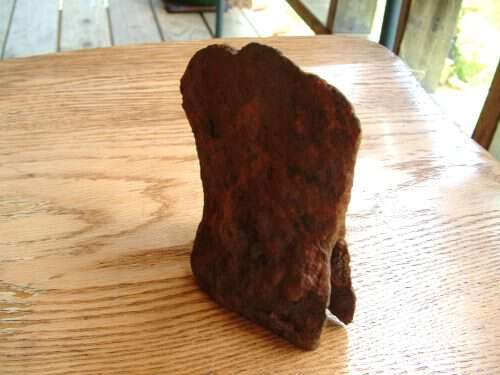 Hunting for treasure-is one of our favorite things to do around the Blind Pig house. Late July-is not the best time to look for relics from the past-it's too hot, too grown up, and too snakey.
A few weeks ago, the Three Indian Princesses went along with Mandolin Man to hunt for fishing bait. I thought about going along-but after thinking of the sticky heat-I declined. I kinda regretted it-when the girls returned with the treasure above. Chatter found the old Ax head in the creek. We have no clue how old it is or even whose it was. I'd like to think it was my Papaw's or someone's from his family-but have no way of knowing.
As soon as I saw the ax I was tempted to have the girls take me back to where they found it-so we could dig around and see if there was anything else-after thinking of the stickiness-I decided we would wait for fall and cool weather. But after talking with one of Pap's Aunts, and hearing about her memories of living near Pap's old spring when she was a child-I knew I couldn't wait to trek back up the creek to do some digging.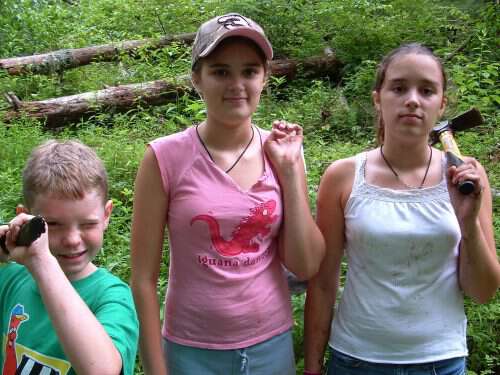 One day last week-me, Chatter, Chitter, and Ninja Boy (our favorite little boy in the world) went on a treasure hunting expedition to see if we could find anything else where the ax was found.
The day was the weirdest treasure hunting day we've ever experienced. It started as we were all getting booted up and ready to go. Chitter disappeared. We looked in the house and outside-she was no where to be found. After yelling for her-she came walking out of the woods-barefoot and still in her pjs. When I asked her what in the world she's doing-she said she heard the dogs barking-looked out the window and thought she saw two legs running into the woods so she went to see who it was. Chitter doing this-is not weird in itself-she's well known for being kind of kooky. But as the day progressed, we all wondered about the two running legs.
Typically when we treasure hunt-we look for old dumping sites. Places where folks dumped their trash-before there were public dumpsters. As we looked around where the ax was found-we soon realized there wasn't a dump there.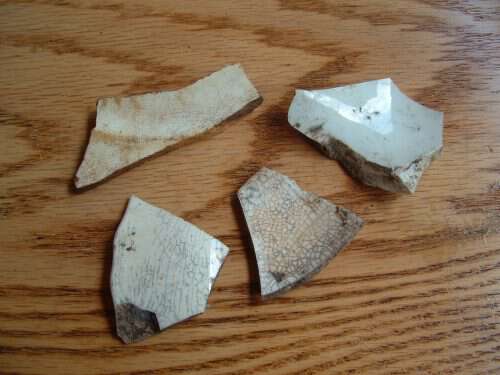 The girls did find some old plate shards-which always excites us. But as we failed to find a dumping site-we begin to get discouraged by the heat and bugs.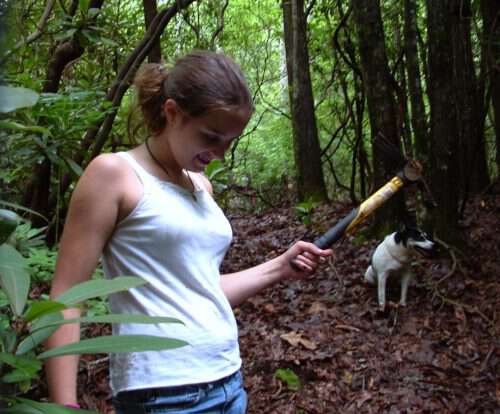 Chitter started saying she felt like we were looking in the wrong place-saying she felt like something was telling her to look in a specific place. We all ignored her and kept digging and poking around.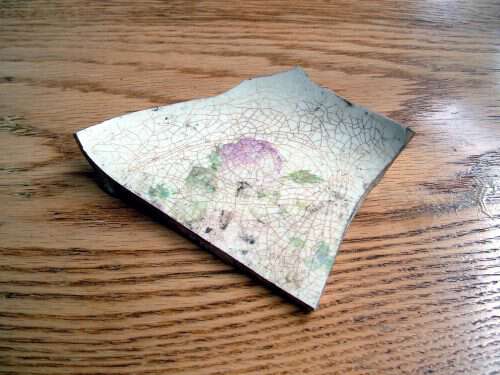 In just a few minutes she yells through the woods to tell us-she's found something. She found the old plate piece above-see the pretty pink rose pattern? Before we know it-she's off again saying she thinks she should look somewhere below us.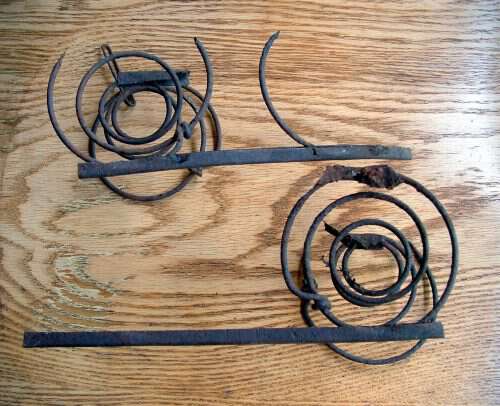 No sooner than her and Ninja Boy get out of sight-she's yelling again-this time she found-what we think are some kind of car springs. We're beginning to pay her feelings a little more attention now.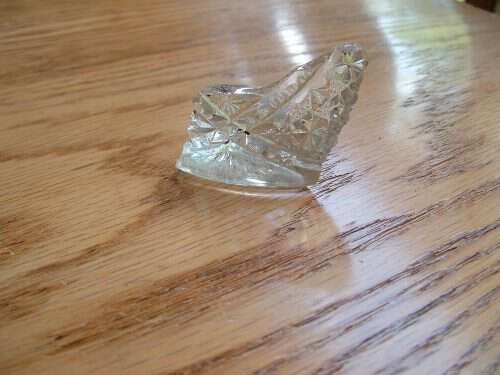 Next Chitter says she feels like there is something in the old logging road above us-sure enough she heads up through the woods and goes straight to the little piece of cut glass. She now has our rapt attention and we willing follow her for the rest of the day.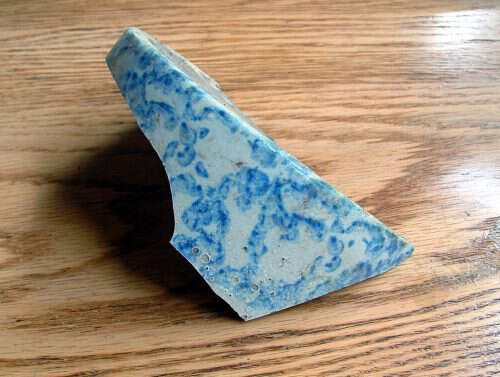 Her next feeling leads us straight to the piece of pottery above-just sticking out of the muck like it's waiting for her. We all begin to discuss how eerie it is-how Chitter seems to be led to the exact positions of the old artifacts. Honestly, I'd think she planted it all-if I didn't know better. Somewhere after the 3rd or 4th 'Chitter feeling' one of us remembers the 2 running legs and wonder if they've been leading her from the start. As the day wore on, she continued to lead us to pieces of broken glass, dishes, and old car parts-until we were all to tuckered out to care-and headed for home.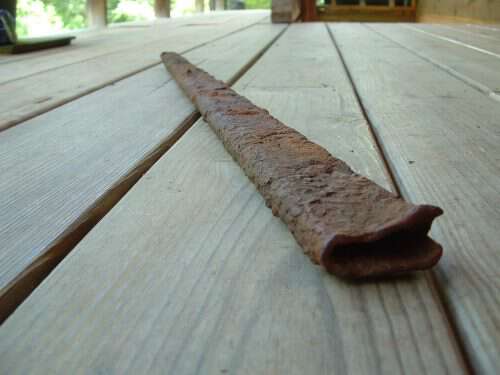 The best find of the day-had nothing to do with Chitter's feelings-but was strange too. Early in the day-when we first approached the site where the ax head was found-I looked straight at the sword scabbard above. It was sticking part way out of the dirt-like it was waiting for me to find it. As Chatter and I pulled the scabbard out-I could not believe what I had found. My mind immediately went to WC Penland and the days of the Civil War. I doubt that's where the sword scabbard is from-but I hope to find out.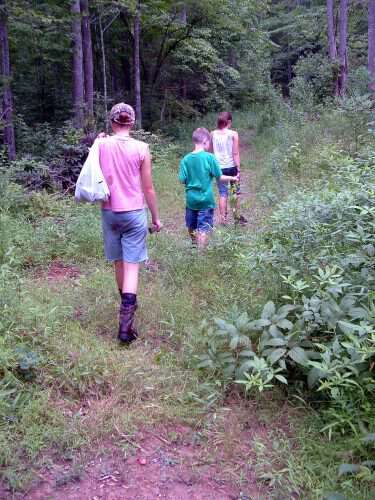 So what do you think-was Chitter following the two running legs all day-or is she just a lucky dog?
Tipper