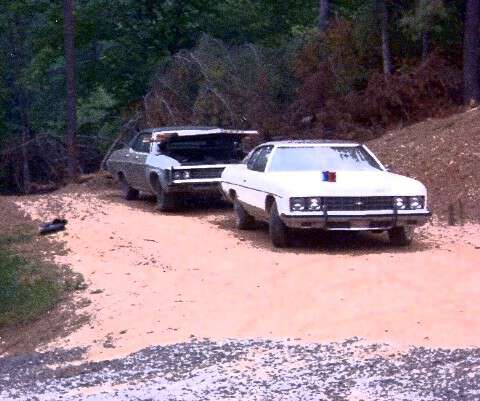 Seems my mind is always wondering back to days of old, seems I'm always longing for a touch of the past. This summer I've been working for a dear lady who lives down a long winding road. A road I traveled often in childhood, riding in the backseat of Pap's big white Impala or green Ford LTD. Back in those days I had nothing to do but stare out the window as we wound our way through the curves to a little country church or a house along the way.
For many years my daily travels have seldom led me through those parts, until this summer. Each Friday I feel as though I'm driving back in time. My history lives along the road:
~My Mamaw grew up along the road. She walked it with her sisters and sadly her father was shot and killed along the road too.
~There's a little white church where I spent homecoming Sundays with lots of food and lots of people. Now the church sits deserted. Silently keeping watch over those who lie near by like Mamaw and Papaw under the oak tree.
~A deserted old brick school building, Ogden, where Pap spent part of his elementary school years.
~The river where two of my cousins where baptized on the same day.
~The sweetest Aunt Ina who lived in the big house that was divided in two to share with her daughter and son-n-law.
~Happy happy days and nights spent at my best friend Tracy's. I can't even remember not knowing her. Now she lives far away in the big mountains of Montana.
~I even have memories from the Blind Pig on the road: Sylvia one of my first Mountain Folk Interviews.
Some Fridays as I drive it seems I hear those voices from the past shouting at me, calling me to come back and be part of the days that are gone. Calling me back to the days of riding in the backseat with Steve and Paul.
For this week's Pickin' & Grinnin' In The Kitchen Spot-A Touch Of The Past. I hope you'll give it a listen and I know you'll be glad you did.
Hope you liked the song.
Tipper