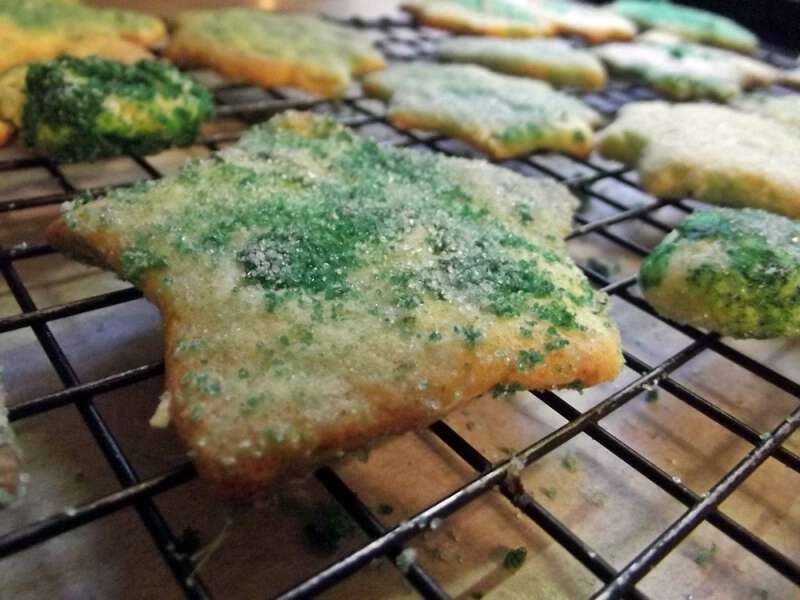 Every Christmas since I was big enough I've made Granny's recipe for Christmas Sugar Cookies. I started out making them with her and once I was old enough to handle the recipe by myself Granny handed the reins over to me and assigned Paul the job of being my helper. We looked forward to our annual Christmas cookie making day with great anticipation. Paul and I could be pretty silly and our cookie event usually had at least one or two giggling fits. That's probably why Granny got tired of fooling with us and was anxious to hand the duty over.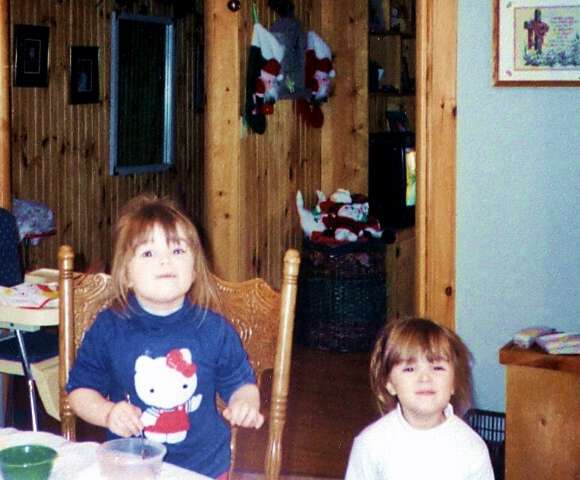 Chatter and Chitter Christmas 1999
After I was married Granny shared her hand written sugar cookie recipe with me and I began making the cookies for Christmas at my house. As soon as the girls were big enough to take part in the tradition I began letting them help…or in better words letting them make a huge mess and make me wonder why I thought cookie making with small children was a good idea in the first place.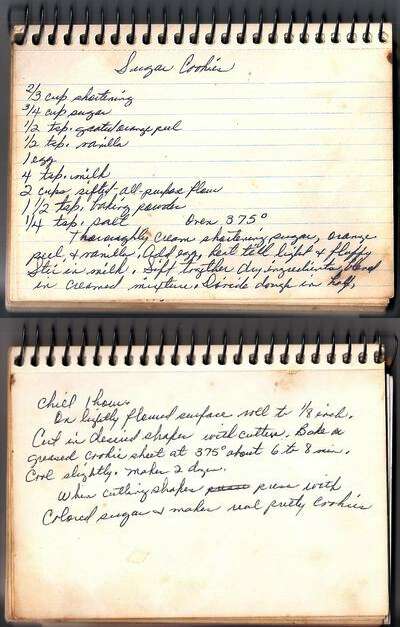 To make Granny's recipe you need:
2/3 cup shortening
3/4 cup sugar
1/2 teaspoon grated orange peel (I think this is what makes them so good!)
1/2 teaspoon vanilla
1 egg
4 teaspoons of milk
2 cups sifted plain flour (all purpose)
1 1/2 teaspoon baking powder
1/4 teaspoon salt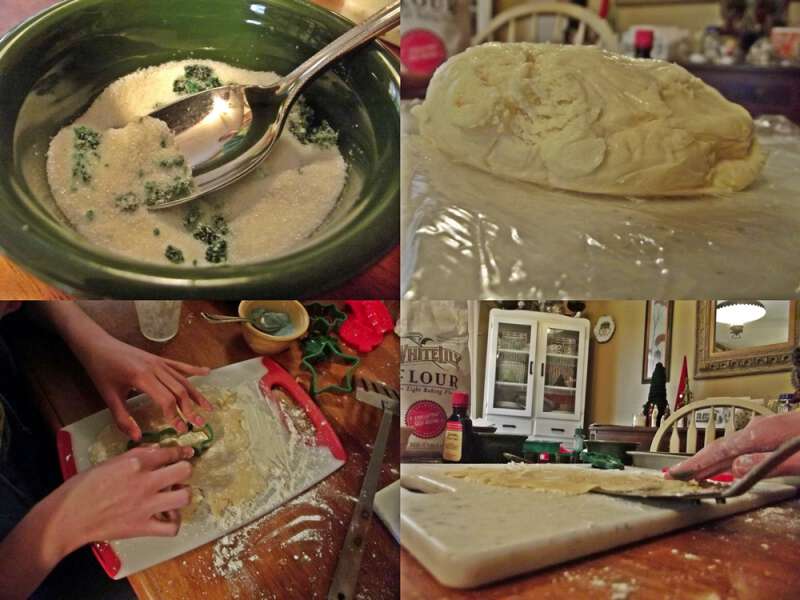 Thoroughly cream shortening, sugar, orange peel, and vanilla. Add egg-beat till light and fluffy. Stir in milk. Sift together flour, baking powder, and salt. Blend dry ingredients into creamed mixture. Divide dough in half, wrap, and chill for at least 1 hour.
While the dough is chilling, make colored sugar to decorate the cookies with by mixing food coloring and sugar.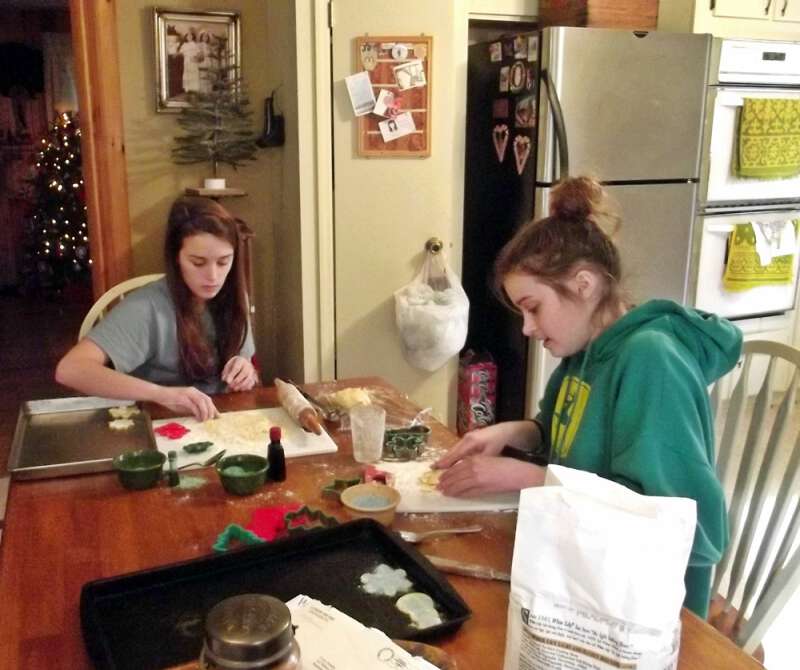 When the dough has chilled roll it out on a lightly floured surface to about 1/8 inch or whatever thickness you prefer. Cut in desired shapes, sprinkle with colored sugar, and bake on a greased cookie sheet at 375° for about 6 to 8 minutes or till light brown.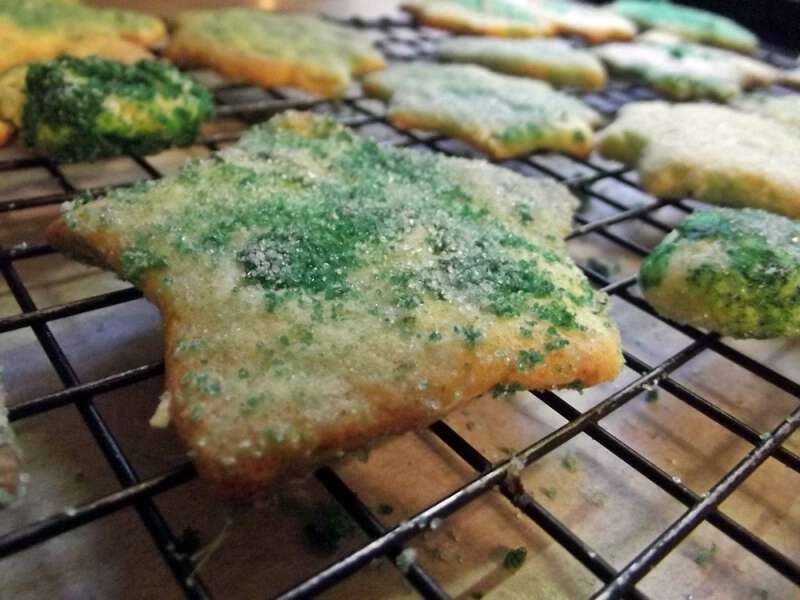 My favorite thing about the hand written recipes Granny gifted me with after I was married are the notes she wrote to herself on them. On the sugar cookie recipe she has written "When cutting shapes press with colored sugar and make real pretty cookies."
Tipper