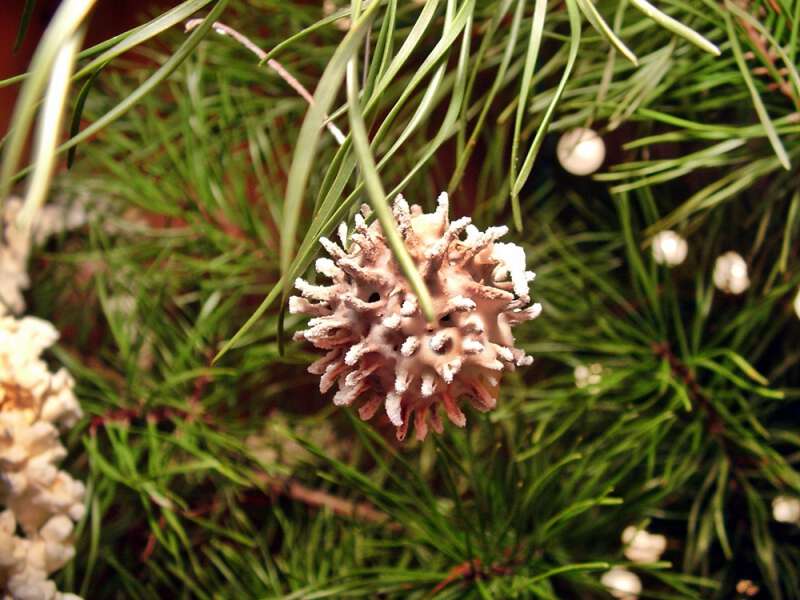 Several years ago I learned how to make snowflake or snowball Christmas ornaments from the book A Foxfire Christmas. One of the interviewees in the book described how her family took sycamore balls and dipped them in flour and water to make them white like snow balls for their Christmas tree decorations. I didn't have any sycamore balls, but I have a never ending supply of sweet gum balls in the woods around my house and I figured they would work just as well.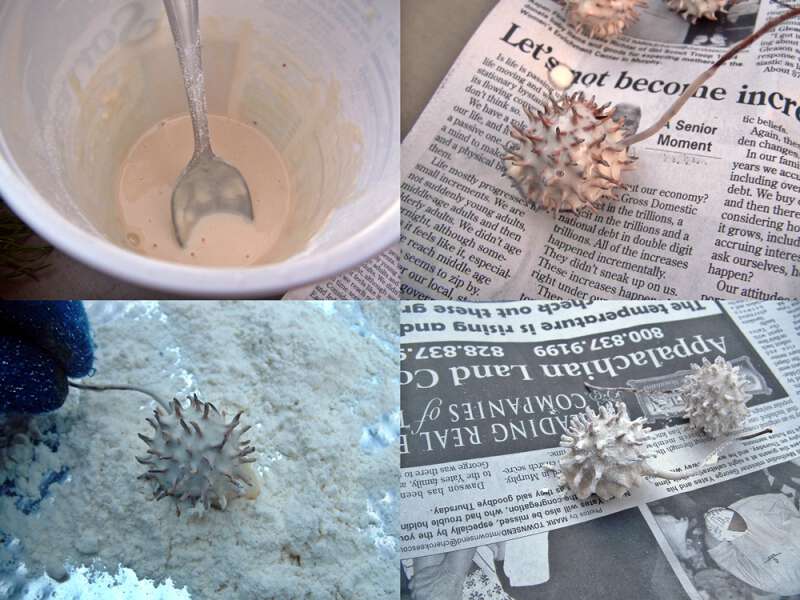 I made a thin batter of flour and water and dipped the sweet gum ball in it. Next I rolled it in flour and then set it aside to dry by the heater. Most of the sweet gum balls I used still had their stem on them, which made a handy dandy handle for holding onto.
B. Ruth's family also used flour to make decorations:
My childhood memory of greenery decoration was gathering small cedar pieces, wetting them under the faucet, placing a 1/2 cup of flour in a large brown poke..while holding the damp branches upside down in the poke, gather the poke around them and shake it….take out.. instant snowfall…we would put them all around in vases and attach little red and silver balls…yes it would get messy after a while but was so pretty to us and would last thru the holidays…back then we only put up our real tree a week or less in advance of Christmas..
I was so pleased with how the sweet gum balls turned out. They did indeed look like snowballs. And what a fun easy decoration to make. We had a good time walking in the winter woods looking for what we needed and enjoyed a cup of Russian tea to warm us as we completed the snowflakes on the back deck.
Tipper