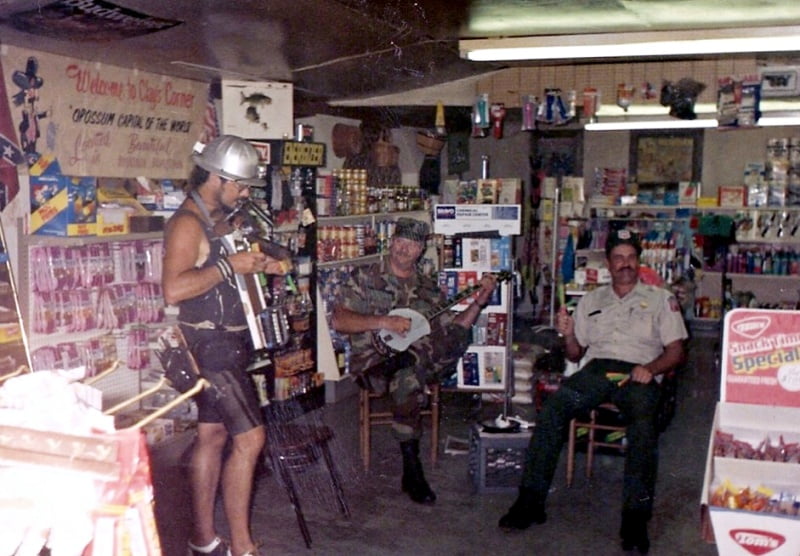 Uncle Henry on the far right loafin down at Clay's Corner. Wish I could have heard the one man band!
Loafers are about as scarce here as hen's teeth. "Folks just don't seem to have no time for loafin' any more," said Charlie Burleson. "Why, it's got so they're in such a hurry to get some place that they hardly take the time to say howdy," Charlie reckons he's about the only real honest-to-goodness loafer left in Loafer's Glory.
"Somebody's got to uphold the glory of our heritage," he said, "and I guess I'm as well fixed for the job as anybody. I don't strike a lick of work if I can help it. I'm retired. But it gets pretty lonesome when a feller has to do his loafin' all by hisself."
Now don't get the idea that Charlie is a lazy man. He isn't. And if you think that loafing is a lazy man's occupation, Charlie will set you straight real quick.
"There's a time for loafin' and a time for work, " he said. "Folks who work are the only folks who know how to loaf. Don't reckon you ever saw a lazy feller a sittin' around whittlin' or playing' checkers or spinnin' yarns. Loafin' is a sort of unwindin' when the crops are in and the plowin' and the hoein's been done. Saturday is loafin' day, and so's a rainy day. But you've got to have folks to loaf with."
—John Parris – "My Mountains My People"
---
If Charlie thought folks were too busy to loaf back then reckon what he'd think today. It seems like when I was a young girl there was more time for loafin when all the work was done. These days it seems like we're all running around like a chicken with its head cut off.
Tipper
Subscribe for FREE and get a daily dose of Appalachia in your inbox