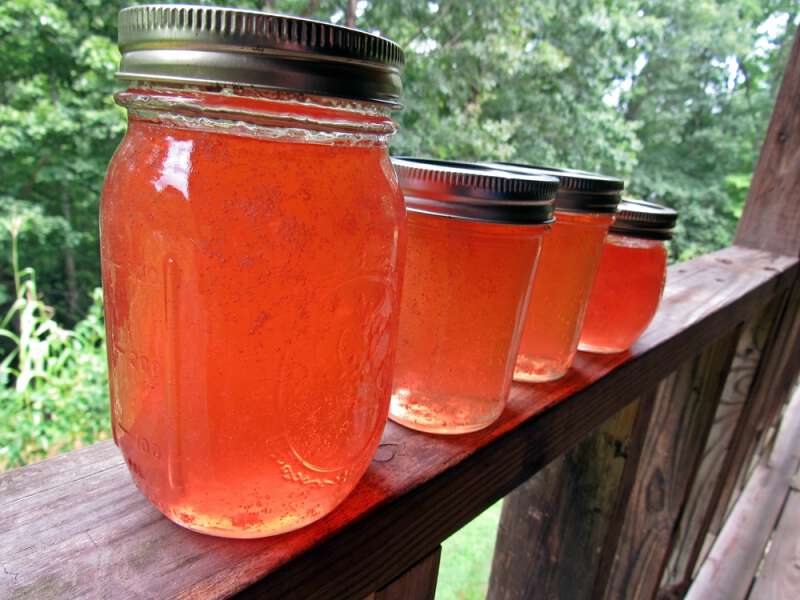 Last week Kim, a Blind Pig reader and a friend, posted about making peach jelly from peelings on Instagram. I asked her to share the recipe with me and she did.
Granny taught me to make apple jelly from apple peelings, but I had never thought about using peach peelings in the same way.
Miss Cindy brought us a basket of white peaches from the farmer's market and I was already planning to make a pan of Peach Bars. After I read the recipe Kim sent I thought "This is going to work out perfect. I can save the peelings from the peaches I use to make the bars and make jelly with them." And that is exactly what I did.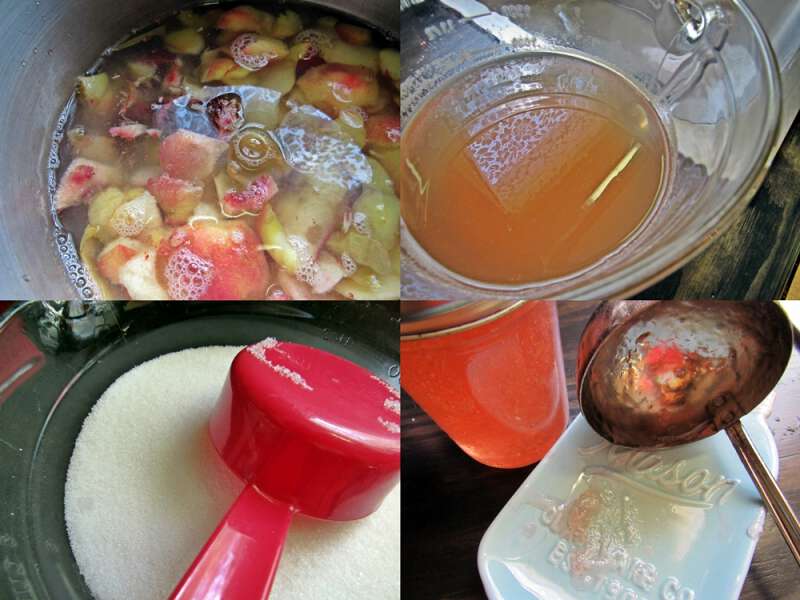 I had to borrow a pack of sure jel from Granny to make the jelly. She asked what I was making and after I told her she said "You should just make peach preserves like I do. That jelly will have peach fuzz in it." Before I could say anything Chatter said "No it wont' Granny. Every time I eat a peach I eat the peeling too and it don't taste fuzzy."
Well Granny still didn't think I should make the jelly, but I did and it is wonderful! The jelly has a real peach taste and since I used white peaches it is a pretty light orangey pink color.
Here is the recipe Kim sent me:
Peach Jelly
4 cups peach juice
1/2 tsp. Butter (optional)
1 package of pectin
5 1/2 cups sugar
Canning jars, bands, lids
Place peach skins and pits in pot and cover with water. Bring to a boil.
Once mixture is boiling, turn down to medium/low and let simmer for 10 minutes.
Let mixture cool slightly. Strain juice.
If you have less than 4 cups of juice you can add water to make up the difference needed, but don't use more than 1 cup of water. If you have more than 4 cups of juice, you can double the recipe or freeze extra for later use.
Place juice, butter, and pectin in  pot on high heat and bring to a boil.
Add sugar all at once and stir well. Bring mixture to a full rolling boil and boil for one minute. Ladle jelly into hot jars and seal.
After I made the jelly I remembered reading that peach seeds can be poisonous. A quick google assured me that you'd have to ingest a whole heck of a lot of ground up peach seeds to be poisoned.  If you'd rather leave the peach seeds out of the juice process just to be on the safe side, I don't think it will make any difference in the way the recipe turns out.
Tipper