The Blind Pig & The Acorn Archives are like an encyclopedia, albeit not a very well curated encyclopedia. The nature of a blog makes it almost impossible to have something akin to an index of material. The forward motion of the blog itself buries things so far back that new readers aren't very likely to ever stumble across them.
For a long while I've been kicking around the idea of featuring old posts from the archives but never could come up with exactly how I wanted to do it. It finally hit me this week: I should tackle the issue by sharing "this day in this year" type of posts.
My first From the Archives post comes to us from March 3, 2015. It is a guest post written by Don Casada.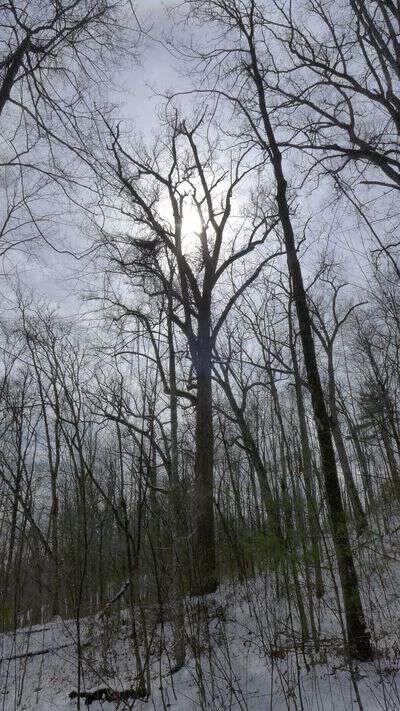 Old Growth by Don Casada, February 28, 2015
High above the waters of Indian Creek, deep in a hollow carved into the divide called Sunkota Ridge, there stands a fine old-growth yellow poplar. There are a few sizable oaks in the area, but just that one old-growth poplar.
I first ran across the tree just over three years ago. I'd been down near the creek looking for evidence of the old Indian Creek School when I got word that Pearl Cable had fallen and broken her hip. Pearl was 91 years old at the time. A broken hip at that age is often followed by a general rapid deterioration in overall health, so prayer was certainly needful.
My preferred location for worship and prayer is, to use a Louis L'Amour book title, Lonely on the Mountain, so I decided to fetch myself to a high spot from which to pray. Since it was a few miles from where a maintained trail ascended the ridge, I elected to just take off and bushwhack up through the woods toward the top of Sunkota, a ridge which, for several miles, is the divide between Deep Creek and Indian Creek. Quite a bit of it is a steep haul, but fortunately I hit an old sled road which made the climb considerably easier, although there were a few sections of laurel and greenbrier to contend with.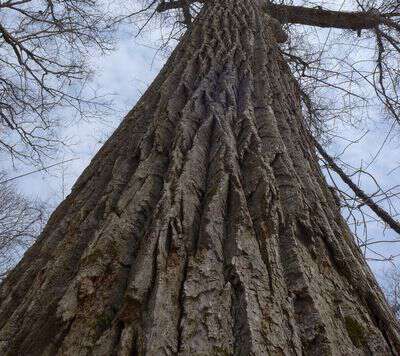 Just as I was approaching the ridgeline, the old-growth poplar caught my eye. Old-growth poplar can be distinguished by the deep furrows on its bark. Second-growth poplars, for whatever reason, don't have the same characteristic, even when they reach over three feet in diameter.
There's something about old trees which evokes respect and awe, even a sense of reverence. As soldier Joyce Kilmer wrote, a tree "looks at God all day and lifts her leafy arms to pray." This being February, there were no leaves, but her arms were untiringly lifted, and so it just seemed a fitting spot to stop and join in the prayer.
Prayers lifted from there and elsewhere – including from Tipper's Blind Pig readers (thank you) – "took holt" in Heaven; Pearl had surgery and recovered.
A difference in character
My father spent his working for pay days in the woodworking business, all but a couple of those at the Carolina Wood Turning plant in Bryson City. Years after he retired, he would occasionally talk about the trees of these mountains and the quality of their wood. Daddy insisted that old-growth yellow poplar was an altogether different tree than second-growth poplar, and finer in all respects.
There are a few places in these mountains, including the Fork Ridge area of Deep Creek, sections in Caldwell Fork of Cataloochee as well as a few other isolated locations, such as the Joyce Kilmer Forest near Robbinsville where fine stands of old-growth poplar can be found. If you have never been into one of these or similar areas, and have the physical ability to do so (relatively little walking is needed in Joyce Kilmer by the way), I strongly encourage you to go. Your soul will be blessed and your heart refreshed by time thus spent.

Old-growth poplar wood is light, straight-grained and durable, and because it grows with long, straight, limb-free trunks, made prime material for log cabins, schools and churches. There are standing log structures in our area with two-plus foot wide poplar logs which date back well over a century. In addition to these rough-hewn uses, poplar was also selected for the making of machined wood pumps and veranda or porch columns, such as those manufactured by the Bryson City Pump Works in the early 1900s. As a catalog of the era noted, only #1 clear yellow poplar was used: "Unlike the northern, or hard white poplar, it will stand exposure to sun and rain without check or decay."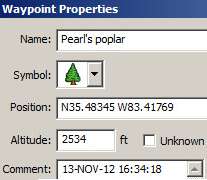 In November of the year of Pearl's recovery from the hip surgery, I made my way back up the mountain to locate where I'd gone to pray, and reflected on how many characteristics she shared with old-growth poplar – tall, straight-grained, durable, and over the course of her life had applied herself to rough (cutting firewood and building rock walls) and refined (doctor's aide) services. And just being around Pearl is a soul-refreshing time. For future reference purposes, I put a marker for the tree location on my GPS unit and named it "Pearl's Poplar."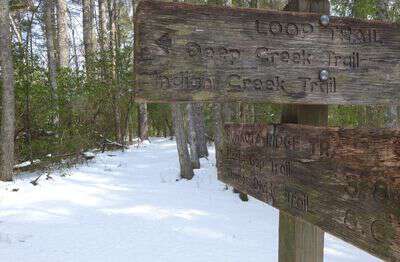 A journey back home
Today (February 28, 2015), I once again sought out Pearl's Poplar. Several inches of the snow from this past week still covered the ground in all but the spots that get a lot of sun. Down along the Deep Creek and Indian Creek trails, enough folks had walked to pretty well compact the snow and it was a mess to travel through. Leaving Indian Creek, I found that a solitary soul had preceded me on the "Loop Trail" climb across the lower end of Sunkota Ridge.
When I reached the Sunkota Ridge trailhead where I would make the turn and begin the ascent towards Pearl's Poplar, I found it covered in untrammeled, pure and lovely snow. The contrast between the mess I'd been through down lower and the virgin snow brought to mind the passage in Isaiah where, considering the mess that many of us have made of our lives, God says "Let us reason together…though your sins be as scarlet, they shall be as white as snow." It also occurred to me how fitting it was that this part of the journey would be made alone, for this earth is not our final home; the days of even a gentle but tough lady like Pearl are numbered. I was led to make the pilgrimage to Pearl's Poplar on this particular day because this morning at 7 am, her own earthly pilgrimage reached its end.
New beginnings and trees along the river
The first passage in Lonely on the Mountain reads:
"There will come a time when you believe everything is finished. That will be the beginning."
Pearl started a new beginning today. We are told that in that land of new beginnings, it'll always be springtime, for trees of life, standing alongside the river, bear fruit every month. Western North Carolina native Red Smiley, who is buried a few miles west of town in the DeHart Cemetery, and Don Reno sang of that, as did the Johnson Mountain Boys.
That Biblical imagery is no doubt what Stonewall Jackson had in mind just before dying. In his excellent biography, Stonewall Jackson: The Man, the Soldier, the Legend, James Robertson notes that Jackson's physician, Hunter McGuire, recalled that just before he died, Jackson suddenly emerged from a state of wild delirium. With a peaceful smile of relief he said "Let us cross over the river, and rest under the shade of the trees" whereupon, he did in fact cross over.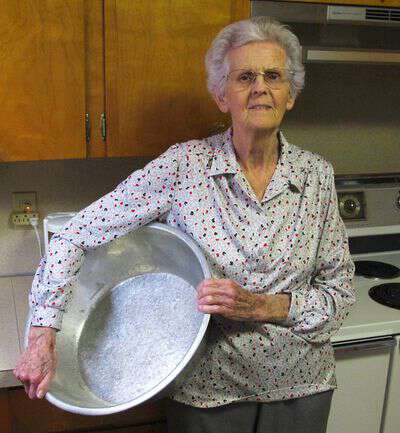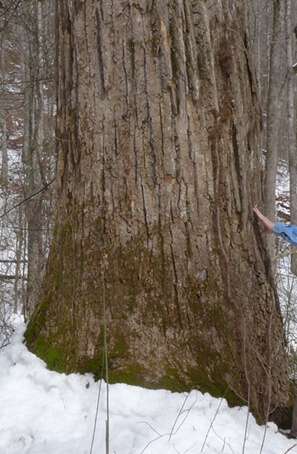 This earth isn't heaven, but these mountains that we call home are the next closest thing. I'm grateful that there is special place, lonely on the mountain, where I can go to reach out and touch Pearl's Poplar, look along its rugged, character-telling trunk toward Heaven, and harken back to the twinkle in the eye and the joy in the voice of an old-growth mountain lady and treasured friend, Pearl Crisp Cable, now resting in that springtime forever place.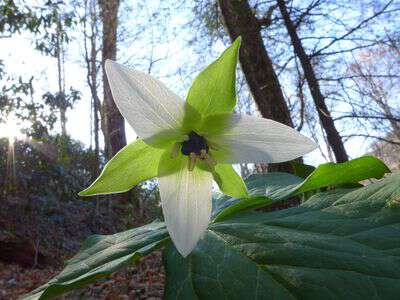 Pearl's Postscript
It is my hope that your readers would – as Pearl might've said – "take to studying" on ways in which Darling Pearl was like that old-growth poplar. Brother Jim saw my words earlier and came up with several thoughts which maybe he'll repeat for you in a comment here.
But it occurred to me that there was a way for your readers to get an altogether different sense of what a pure delight Pearl was to be around.
I dearly loved just to sit and talk with her – or more accurately, listen – to Pearl talk. Last spring I had a chance to sit down with her and just the two of us had a nice long conversation on a host of subjects.
Relative to the question about how old she was when she got her first dress –  Pearl was born in 1920, the second daughter of Miles and Sarah, and about two years younger than Virgie and two years older than Letha. So it would've been sometime in the mid-1930s when Pearl got her first store-bought dress and coat.
---
I hope you enjoyed the trip back into the archives as much as I did.
Last night's video: My Life in Appalachia 19 | Climbing Tall Trees, Finding Icicles, Making Music, and Eating Good Food.
Tipper
Subscribe for FREE and get a daily dose of Appalachia in your inbox