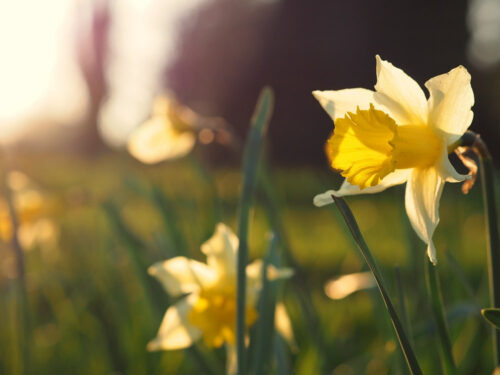 Over the last week and a half I've noticed daffodils blooming throughout Brasstown. Here on the north side of the mountain mine are up and budded but not bloomed.
Daffodils are one of the cheeriest harbingers of spring of the year.
Every year I wonder about the daffodil blooms I see in fields or wooded area, in other words flowers blooming in the middle of nowhere yet sending out a strong and mighty signal that someone once lived there.
I once read an article that stated the first settlers of the northeast brought daffodil bulbs with them to the new world. Women sewed the bulbs into the hems of their dresses in an effort to bring a little piece of hope and beauty to the future that awaited them.
Daffodils peak out on the road leading to my home. I know they were planted by my mamaw or perhaps her mother. The flowers have outlasted them both.
Farther down the road a bank showcases a shower of yellow blooms. Pap told me my great Aunt Dude and Uncle Ot once lived in a tiny house that set there.
Further still a massive amount of daffodils bloom inside a cow pasture. Pap said when he was a boy there was a store there, but as long as I can remember only cattle have frequented the spot.
I'm obviously not alone in believing daffodils are harbingers of spring. The ladies who thought enough of of the blooms to sew the bulbs into their dresses clearly knew the power of hope and renewal that occurs each spring.
Last night's video: Beef Stew & Taters with Slaw and Cornbread – One of Our Favorite Meals in Appalachia.
Tipper
Subscribe for FREE and get a daily dose of Appalachia in your inbox