Today's guest post was written by Wayne Easter.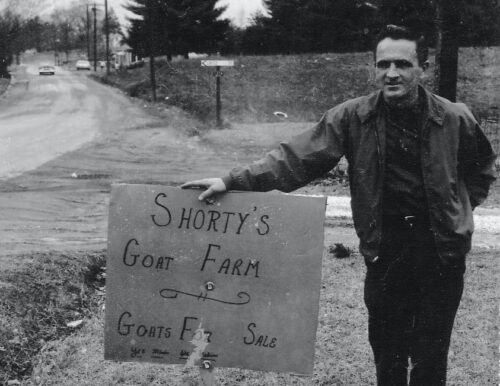 In the 1960s photograph (made in my front yard) a sure sign that I had "Messed up."
It was in the 1960s; Franklin Volunteer Fire Department was almost new and us volunteer firemen were hard-working souls. Even so, every now and then, we had fun. For reasons no longer remembered, we wound up with a goat for a mascot. It had to be fed and cared for by someone and at the weekly meeting, it was declared that when a fireman "messed up," his fine would be caring for the goat for a whole week. How would it get to his house? He need not sweat, it would soon be there; "staked out" in his yard: hungry and telling the world about it.
Came the day when a certain fireman became "It." It was well after dark, when his fellow firemen hauled the goat to his neighborhood (Westwood) off North Franklin Road. Just as they got it off the pickup, the goat escaped and the race was on. They chased around in the dark, yelling, "Yonder it goes," and "there it went," and "It's headed your way." They made crashing sounds as they fought their way through the woods, back yards and briar patches. Meanwhile, every dog in the neighborhood barked like it had a bear up a tree and every porch light came on.
No home owner had any idea what was out there, but whatever it was, it had to be mighty big and somebody yelled, (so it was said) "Call the law, Sadie and bring me my gun." Try as the firemen might, the goat was never seen again and one of them said, "Last I seen, it was headed for the mountain."
Then they tried to explain to the home owners what it was all about, but it hardly made sense that their very own fire department would be out there in the middle of the night chasing a goat through the woods. At the next weekly meeting, the vote was unanimous: "No more goats for mascots."
---
I hope you enjoyed Wayne's story as much as I did! He has written several books about growing up in Northwest North Carolina. You can see the books and find out more about Wayne here.
Tipper
Subscribe for FREE and get a daily dose of Appalachia in your inbox