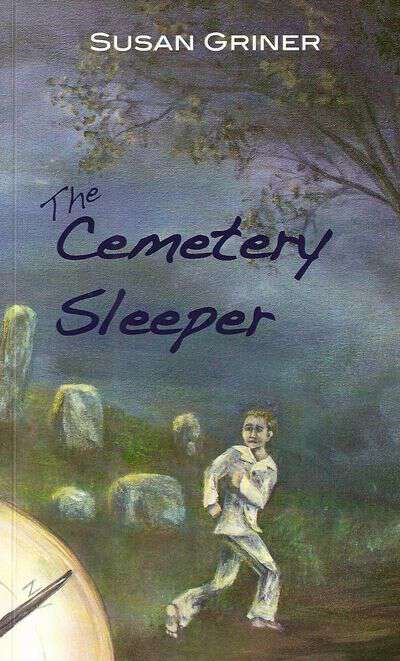 Back in July Susan Griner emailed me in regards to linking to the Blind Pig & the Acorn blog. She also mentioned a book she had written about a boy in Tennessee. Susan's email led me down one of those internet mazes-you know when you click here and then click there and then find something really wonderful?
What I found was a piece Susan wrote, Smile Talk. The story centers around a misunderstanding of an old saying that I've heard all my life: "I've got a crow to pick with you." The story made me smile for sure!
I enjoyed the short story and some of her other writings so much that I couldn't wait to read her new book-The Cemetery Sleeper. Susan graciously sent me the book to read and to use as a giveaway here on the Blind Pig. Check out the interview I did with Susan to learn more about her.
Where did you grow up? 
I grew up in Kingston, a small town in eastern Tennessee. It's the setting for my book though I'm sure it has changed quite a bit since my childhood. As an adult I lived in Cookeville and Knoxville and taught for awhile in Rockwood which is near my hometown. What was great about growing up in a small town was the freedom to roam the woods and to come home only when I was hungry.
Where did the story of the cemetery sleeper come from?
The idea for The Cemetery Sleeper came to me when I was working in a community college in Rockwood. I met a student who told me that her dad had grown up without a proper name so he took one from a tombstone. I'm a "what if" kind of person so I asked myself, "what if the spirit buried under the tombstone wanted his name back?"
Did you want to write as a child? When did you start writing?
I have always enjoyed writing and kept a diary for years but tore the pages out of it. I wish I'd kept it so I'd know what I thought was so important then. I have a journal mostly, but my ideas mostly come when I'm in the car or out walking and have no paper handy. I studied English in college and have always wanted to be a writer.
Who's writing influenced you?
I love to read memoirs especially of southern writers like Rick Bragg and Barbara Robinette Moss. You and I have also shared a love for the book titled, Dorie, Woman of the Mountains. Her book provided the details about the logging camps that once dotted the Smoky mountain region. I'm also drawn to fiction for middle grade readers which is the audience I most often write for. Ruth White sets her stories in the south and she's the author of Belle Prater's Boy and others.
What was the first piece you ever had published?
My first published story was featured in Cricket magazine. it's a short story set in Tennessee and it's about my mom who was Japanese and her struggles with the English language which I come to appreciate after my misguided attempts to learn southern sayings.
Do you have more books in the works?
The story I am currently working on is a big departure from the stories I usually set in places I'm familiar with. It's set in ancient China and follows the journey of a boy and his horse as they travel along the Silk Road.
Where can people find your book(s)?
Readers interested in my books can find them both in paperback and for the Kindle on Amazon and also for the Nook reader on Barnes and Noble. It's also found on my publisher's site, Saguaro Books.
Is there anything else you'd want Blind Pig readers to know about you?
I enjoy Tipper's blog because it's familiar to me and yet I always learn something new about Appalachia. I live in the Pacific northwest now and I miss the quiet places to hike, the fireflies, and a good tomato.
—————–
So what did I think of The Cemetery Sleeper? I LOVED it! I could not put it down-the story and the characters kept my interest from beginning to end. And oh what an ending! I won't spoil it for any of you who might decide to read the book-but lets just say the ending has a few twists and turns and really made me feel strong emotion-from anger to happiness.
The book is written for the target audience of middle graders, but I think any adult who appreciates a good story would enjoy it as much as I did. Would you like to win a free copy of The Cemetery Sleeper? To be entered in the giveaway leave a comment on this post. Giveaway ends Tuesday November 4, 2014.
Tipper