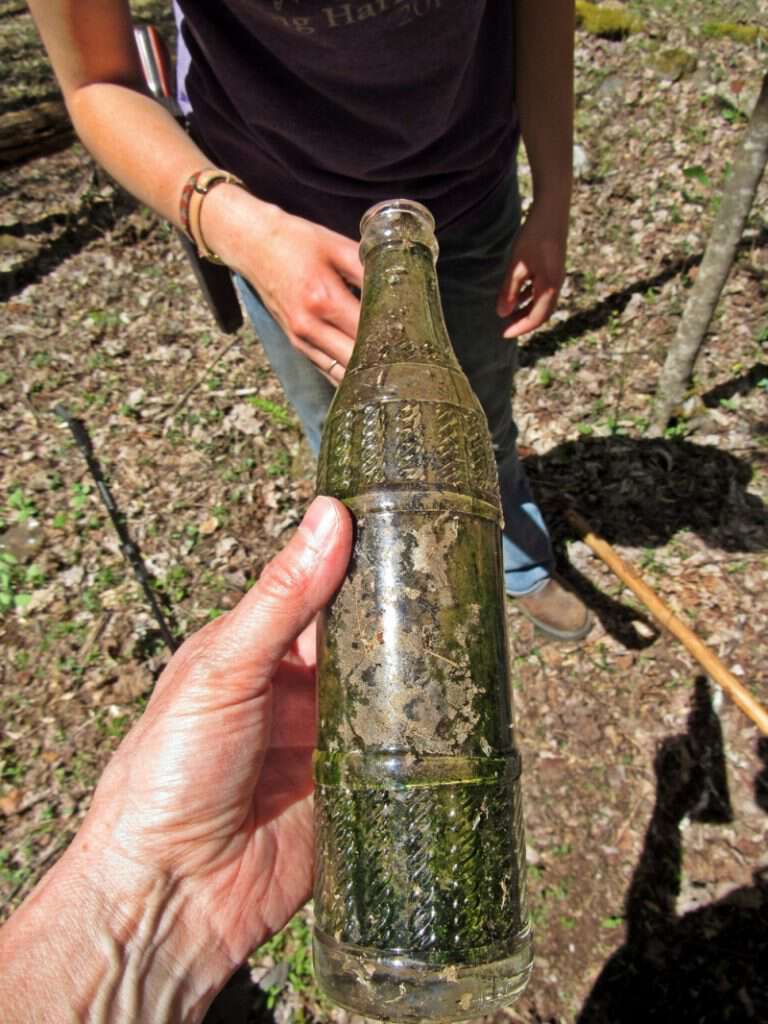 1940s era Nehi soda bottle found up the creek
Back when I first started writing here on the Blind Pig and the Acorn I followed Terry Thornton's blog. Terry has since passed away, but his writing strengthened my belief that we need to understand what went before to gain a hope for the future and an appreciation for the present. Terry documented not only personal details about his life, but also described in detail the landscape of his homeplace in Mississippi and the many changes he'd seen take place over the course of his life.
I live in the same mountain holler I grew up in and even though I don't consider myself an old timer like Terry was, I have seen great changes in my lifetime. One house is gone, five have been added, fields have turned to lawns, roads have been re-worked for better access and too many trees to count have been taken down to make room for all the growth.
I've always been intrigued by the trails and old road beds that run through the acreage surrounding our land. Pap could remember when they were traveled by people, sleds, wagons, horses, mules, and a few cars.
Growing up we had gravity water (water that came from a spring up the mountain). I always enjoyed going up the creek with Pap to check on the water. He told me stories about the cornfields that used to be on the sloping sides of the ridges, he showed me where a stone stable had stood for horses, and he pointed out old house places and told of the people who had lived there. Even though the houses were long gone having been erased by time and nature, Pap made it all seem so real to me.
As I've traveled the same trails with the girls during my life as a mother I've tried to point out the changes I remember. At one creek crossing I can recall there were a few logs rotted and turned green with moss that were left from a wooden bridge. There were random car pieces here and there including the dash of a model t Ford.
Most of the trails have grown up with trees, saplings, and bushes because there's no need to walk them now. And as with each passing generation children who might have played along the trails as we did have more and more to occupy them indoors.
I've always thought if I could sit quietly by one of those trails and wait I'd eventually be able to see some of the folks who traveled the paths in days gone by. Maybe it'd be some of my ancestors walking to check on a neighbor or work in the corn, maybe it'd be settlers who lived before Pap's time, maybe it'd be my cousins, my brother, and me walking, arguing, playing, and keeping the paths wore.
Tipper