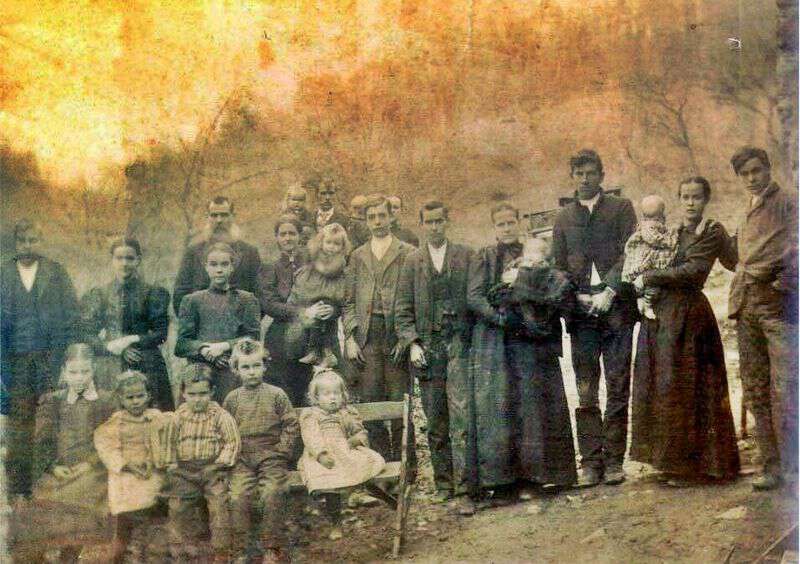 The Coleman family – 1902.  Pap's grandmother, my great grandmother was a Coleman.
My immediate family has been tightly woven with more than a few of those Coleman descendants. Why I dare say they're close as family, which would be sort of silly because they are family even if its in a distant manner.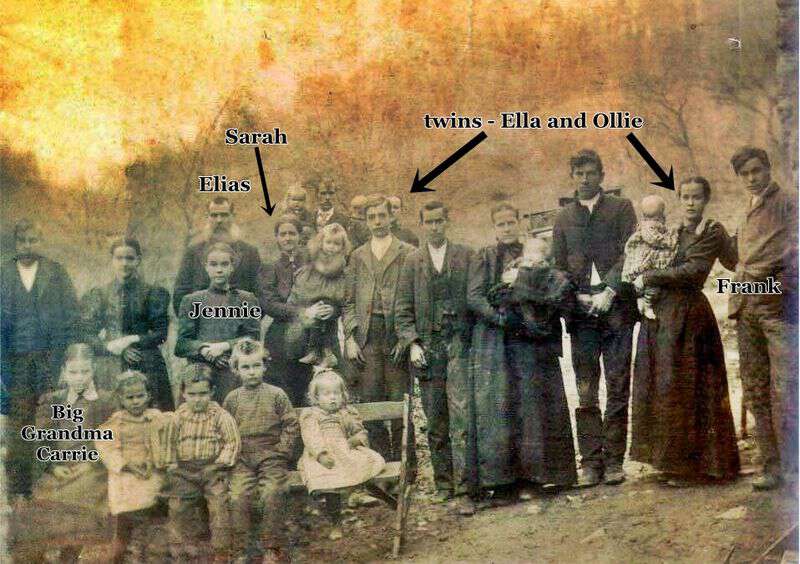 I won't go into all the family details, only a few. See Elias and Sarah? They were the parents of 11 children. There was:
Dora-surely she's one of the ladies?
Ella- a twin!
Ollie- a twin!
George
Frank (wasn't he handsome!)
William
Jennie
Carrie (my Big Grandma)
Fred
Joseph
Sarah
Folks are trying to give names to all the faces. The follow are notes from my cousin Nina.
Maybe Fred is the 4 child over from Big Grandma-he would have been about that age
Maybe its Aunt Ollie by Frank
The gentleman standing between the 2 ladies holding babes looks too tall to have been a Coleman from this bunch so maybe he's a spouse
Maybe the baby in the mother Sarah's arms is the last child-named Sarah
Marion Green is the man in the back beside Ellie holding a child-he and Ellie were married
A few things I thought of when I first saw the picture:
One of the first things I noticed was how well dressed they look-they look pretty spiffy and well to do for 1902 in this area
The bench the children are sitting on
The scenery behind them
I wonder where the photo was taken
How Big Grandma's face and expression remind me so much of Chatter and Chitter's and Pap's, and maybe mine too
When Chatter was just a little bitty thing a sweet lady down the road named Zelma would tell me every time she saw us that Chatter was just like Carrie/Big Grandma.
I can barley remember Big Grandma. I don't have any of the fond memories of her that I do of her daughter Marie, Pap's mother. Oh but Pap does. He has great memories of the days and nights he spent with Big Grandma. He says he can't hear good piano music that he doesn't think of her. And I've heard more than one person say Pap was her favorite. I know you're not supposed to have favorites, but I don't think anyone told her that because I believe she had a favorite from my generation too and it wasn't me!
A fellow Coleman descendant recently shared the photo with me on Facebook. Just wow. I still can't quit looking at it.  I've never seen a photo of Big Grandma as a child. I've stared at this picture for over a week. I just can't get over the pull it has for my eyes.
I'd like to go back and tell them all the things I just told you: that the Coleman descendants have tight connections to this day-especially Frank and Carrie's descendants; that those facial features are still showing up and looking pretty good all these years later; and that four, five, six, and even seven generations later-some of us are still right here where they left us.
Tipper