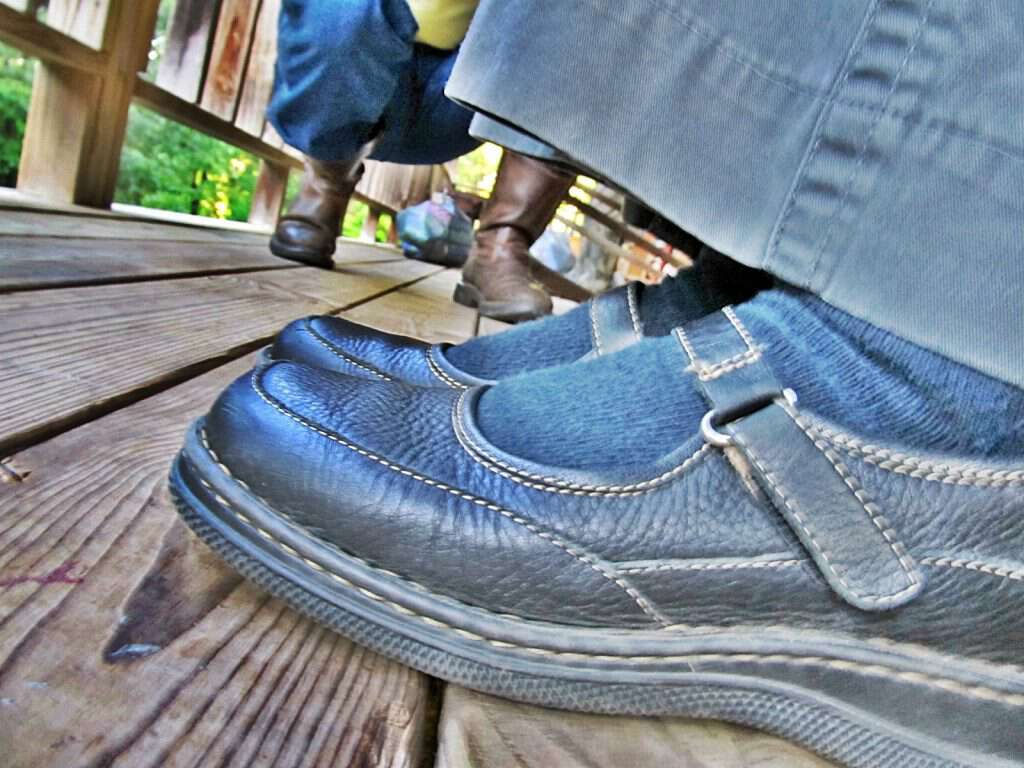 All my life I've noticed men squatting to talk or even just to ponder on things, but I never gave the phenomenon much thought until B.Ruth left this comment a few years back:
Tipper,
I am so sorry but I can't stand it! First, I love the picture! I also am very excited to find out where and what the strange ground is about??? Now then, about that picture! Not the feet, but the person in the background. I have seen my Father and other mountain men "squat" like that to talk, when there was no chair exactly available. It never seemed to bother him or his knees at all! Sometimes he would, if outside on ground, pick up a little stick and scratch the ground or pick at a piece of grass, sticking the end in is mouth! Mom said, she thought he must be part Indian, as he was just as comfortable squatting as he was sitting in a chair…You won't see many men doing that anymore. They usually just prop up on a railing, tree or whatever or maybe go ahead and sit, legs stretched on the porch or ground!
Ever notice??
Since she left the comment I've been pondering on the squatting  of men in Appalachia. Maybe men do this in other places to and I just don't know about it.
I can close my eyes and see men squatted talking around the edge of the church yard. I can see The Deer Hunter and his buddies at the edge of the woods, two or three men standing and one or two squatted while they talk and laugh and go on with one another. As you can see from the photo The Deer Hunter squats on a regular basis. The girls have noticed the phenomenon too…only they call it popping a squat.
As they hurry out the door late for the concert at the folk school I say "You're late there'll be no where to sit." They say "Oh don't worry we'll pop a squat."
Some folks don't call it squatting, but they notice it too. Listen to this short video from Tim Ryan.
So whether you call it squatting, popping a squat, or hunkering down – its a real thing in Appalachia. I hope it never goes away for seeing men squatted down talking or pondering life will forever make me think of Pap.
Tipper
Subscribe for FREE and get a daily dose of Appalachia in your inbox