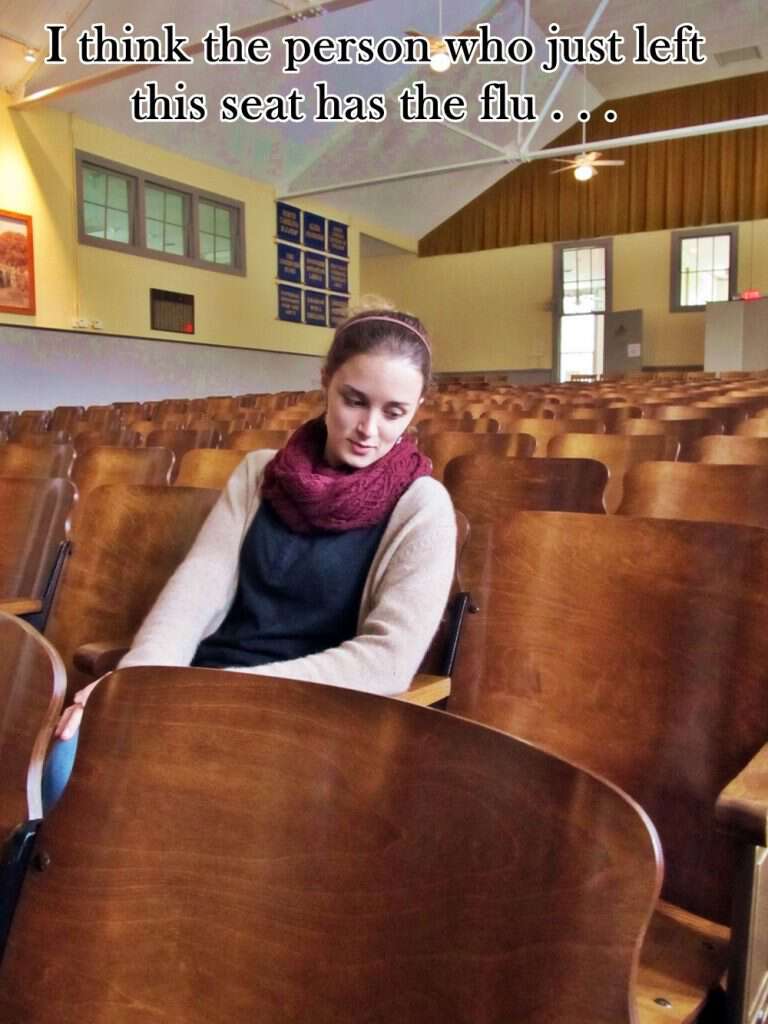 Seems like every day I hear more about the flu that is rampant across the country. Schools and hospital wards are closing in an effort to do some extra cleaning and to allow the germs to die.
Schools here are still open, but sickness is plentiful. A strange phenomenon is happening in my area of Appalachia. Folks who test positive for the flu are also testing positive for strep throat. Talk about a double whammy!
It's been years since I had the flu. I've actually only had it twice in my lifetime and after the last bout I sure don't ever want it again. It was back in 2008 when I first started the Blind Pig. The Deer Hunter was working out of town in those days. I had to call him to come home and take care of me. I stayed on the couch for two weeks and truthfully thought I might die. No one else in the family got it except me, and I was glad. I swore I picked up the germ contra dancing at the folk school.
Over the years I've written about the flu here on the Blind Pig and The Acorn. Here are some comments from the archives about the flu.
Jean: Little girls use to jump rope to this songs back in 1918. I had a little bird, It's name was Enza, I opened up the window, And in-flew-Enza.
RB: I was trying to remember which Grandmother did this, but I can't, but one of them, at the first sign of any illness, doped you up with tablespoons full of Milk of Magnesia to give you the runs to run the sickness right out of you, and I'm thinking that was probably very dangerous for someone who was already dehydrated due to vomiting, etc., but it was a pretty common thing to do back then.
Charline: My Dad was born in 1918. His father and three of his uncles caught the influenza in October. Miraculously, my grandfather survived, but his three brothers did not- two in their 20's (leaving widows and young children) and one in his teens. These were mournful times in the Arkansas Ouachita Mts. In Alabama, my maternal grandmother also caught the flu as a teen. She was thankful to survive, but lost all her hair!
Don: Pearl Cable tells the story that when her daughter, Velma, contracted pneumonia as an infant, Dr. Riter soaked some linens with Vicks Vaporub and wrapped her torso in those. He told them not to remove them for a couple of weeks. Velma was, in fact, cured.
Barbara: My Dad was born in Waynesville in Nov. 1918. My Granny Nichols told us of giving birth with the whole family having the flu. No one would come in their house. They would bring food to the porch. Granny would put the dirty laundry outside. A neighbor would come and boil the clothes over an outside fire. I think that it was only a miracle of God that my Dad survived. My Dad was her last baby. There were 3 older girls. They all lived through that horrible time.
Since I work in a public setting with lots of folks coming in and out all day long I've been washing my hands so much they're raw. I've got so paranoid about getting sick that if someone comes in my office I wipe down the area where they sat with an antiseptic wipe and wash my hands after they leave.
I hope none of you nor none of us get the flu!
Tipper
Subscribe for FREE and get a daily dose of Appalachia in your inbox