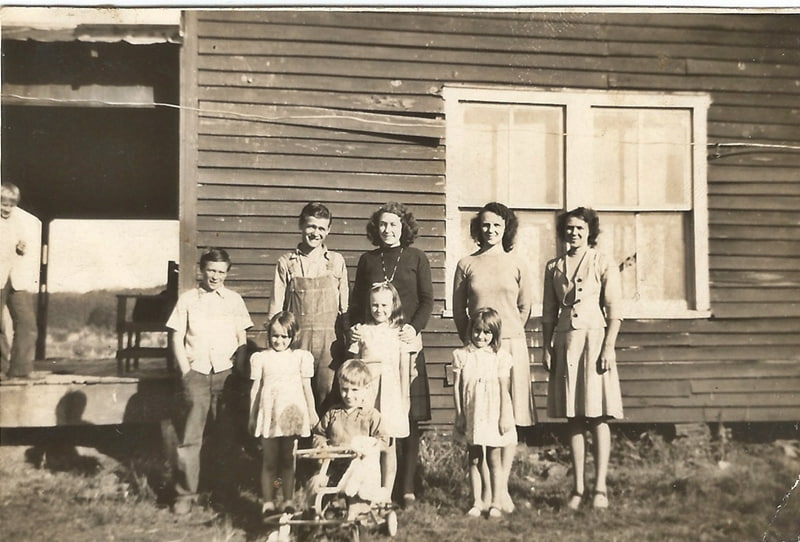 Granny with her brothers and sisters (Granny is the small girl on the far right of the second row)
I was helping Granny yesterday and we got to talking about fall of the year when she was a girl.
Someone would usually give Granny's mother Gazzie a bushel or two of apples and she'd process them for winter use. Fall was the time of the year for harvesting black walnuts too.
They'd all help gather walnuts and then hull them to allow for drying before they began to get the goodies out of the hard shells.
Granny loved black walnuts so much that she'd gather her own sack of walnuts to carry around and break open whenever she got a hankering for them. She said she remembered one particular time she was sitting outside cracking black walnuts and eating them as fast as she got them out. Her Uncle Byers, Aunt Grace, and their children were leaving for Detroit and came to say goodbye.
Last week four of Uncle Byers and Aunt Grace's children came to visit Granny—I was glad to be there and hear the old stories and share in their laughter.
Like most kids Granny said they'd gather leaves in the fall of the year and have a lot of fun jumping in them. They had one rake and between it and gathering leaves by the handfuls they'd soon have a giant pile to play in.
One of the places they lived had a hill that dropped off on each side of the house. Granny said she couldn't remember why, but her and her younger brother James seemed to get ready for school before any of the rest of the bunch.
While they were waiting for the others to come out and for the bus to come Granny and James would take an old straight back chair and lay it on its back for a sort of sled. Fall of the year meant frosty school mornings and Granny said they had the best time sliding down the hills on the frosty grass. Sometimes they'd make it all the way to the bottom.
As Granny reminisced about fall of the year when she was a girl I was pleased that some of the things that stand sharply in her mind are still common today.
Black walnuts and apples are still a huge part of fall of the year in Appalachia and most kids still love to jump in a pile of leaves.
Tipper
Subscribe for FREE and get a daily dose of Appalachia in your inbox